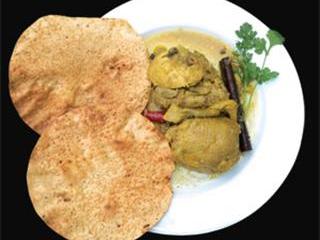 To make this meal for four sweating diners, you will need:
1 broiler fowl cut into standard sections
2 cups dessicated coconut
1 can coconut milk
2 tablespoons tamarind pulp
50mm fresh root ginger
5-10 cloves garlic
Canola or sunflower oil on demand
1 whole cinnamon stick
2 large onions
2 sprigs curry leaves
Fresh coriander (dhania) leaves on demand
5 fresh red or green chillies
For the masala:
1 tablespoon coriander (dhania) seeds
1 teaspoon mustard seeds
1 teaspoon fenugreek (methi) seeds
1 teaspoon cumin (jeera) seeds
10 black peppercorns
4 whole cloves
1 teaspoon ground turmeric
First make the masala. In a hot frying pan or with a blow torch lightly toast the whole spices. Grind them to dust with an electric spicegrinder or a mortar and pestle. Add the ground turmeric and reserve under cover. Section the fowl and save the back. If you are alarmed by chillies, use fewer than suggested and carefully remove and reject the seeds. This procedure seriously lowers the chilli temperature. Remove the seeds (if any) from the tamarind pulp.
Select a frying pan, pour in a tablespoon of canola oil and briefly fry the dessicated coconut. Remove and reserve. Add a little more oil to the same pan and stir-fry the peeled minced garlic, the fresh chillies and the peeled grated ginger. A word about garlic. For some folk, garlic is a rude word. Don't fall into this petit bourgeoisie trap. Garlic is good, and lots of garlic is better. Remove from the heat, allow the contents to cool then tip them into a blender.
Add the fried dessicated coconut, half the can of coconut milk, the depipped tamarind pulp, the freshly ground masala and one of the onions, peeled. Rev to the red line to produce a highly aromatic slurry. Meanwhile, back in the frying pan, add a little more oil and the second onion, peeled and chopped. Bring up the heat to medium and fry the onion until it is soft and translucent. Stir from time to time to avoid burning.
With a slotted spoon, remove and reserve. In the same pan, with the slightly onion flavoured oil, bring up the heat and brown the chicken pieces all over. Change from the frying pan to a large heavy-based saucepan. Add the browned chicken sections and the fried onion. Pour in the entire contents of the blender, add the second half of the can of coconut milk and stir well. Fit the lid and let it simmer until the chicken is cooked to your liking.
Check from time to time during the simmering process. Swiftly fry the papadum (available in packets from bigger supermarkets) and serve them with the curry. You may prefer to rather serve the meal with rice. A light sprinkling of fresh dhania leaves adds a fragrant garnish.
Enjoy!
Contact David Basckin at [email protected]. Please state 'Real cooking' in the subject line of your email.