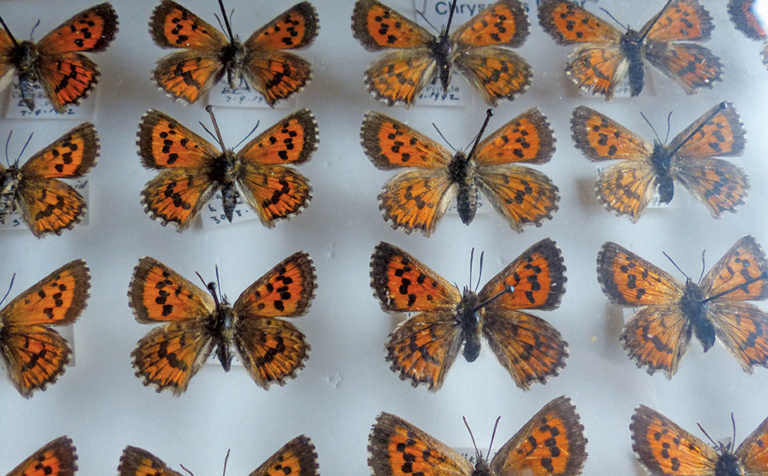 "I suspect that in my dotage I'll still be in odd places at odd times looking for some little insect,'' says Ernest Pringle on his passion to collect insects in the world's third-most biodiverse country.
South Africa boasts more than 830 species and subspecies of butterfly alone.
"South Africa has never been glaciated, with the result that it's amongst the oldest dryland in the world – a remarkably rich place for naturalists,'' he adds.
He believes that people who fail to appreciate and care for the country's rich biodiversity are missing out on much of what makes South Africa really special.
Ernest's lifelong interest in butterflies has seen him become a respected authority in the field of lepidoptery. He co-authored Pennington's Butterflies of Southern Africa (first published in the 1970s) and the Conservation Assessment of Butterflies of South Africa, Lesotho and Swaziland (2013), and has scientifically described numerous butterflies in journals such as Metamorphosis (the Journal of the Lepidopterists' Society of Africa).
Ernest, a descendant of the 1820 Scottish settlers and the fifth-generation Pringle farming on Huntly Glen in the Baviaans River Valley near Bedford, inherited his passion for nature – and obsession to collect from it – from his late father, Victor.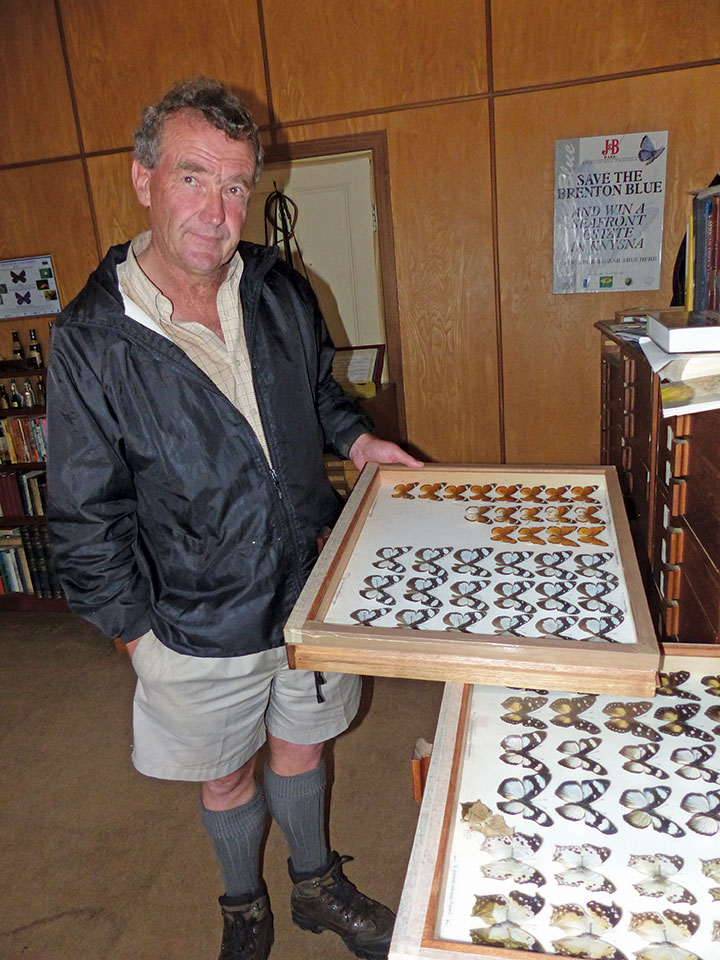 Victor amassed South Africa's most comprehensive bird's egg collection along with an impressive succulent collection before he died in 1999. Indeed, his collections were so impressive that making a meaningful contribution to them seemed impossible, so Ernest turned to insects instead.
"They fascinated me, I don't know why, but I remember messing around with them from the age of three,'' he recalls. "I've been bitten and stung by most of them.''
Books and butterflies
Ernest is quick to point out how Victor's cluttered bookshelves on Huntly Glen fuelled his early interest in insects.
He singles out African Insect Life by SH Skaife for allowing him the opportunity to compare captured insects with the book's detailed sketches.
It was, however, Dawid Swanepoel's well-illustrated and accessible book, Butterflies of South Africa: When, Where and How They Fly, that inspired him to specialise in butterfly hunting.
"The book is marvellous as Swanepoel was an amateur, so it doesn't try to be technical," explains Ernest.
"It tells you where they are, what they do and where to look for each one of them. It has illustrations for all the known species up to 1955 so I could catch butterflies and match them to the illustrations.''
Today, Ernest's butterfly collection stands at a staggering 16 000. It is neatly catalogued and stored in wooden cabinets in a small outbuilding on Huntly Glen – a work in progress that is sure to keep him busy for the rest of his life.
"I don't collect beyond the borders of this country because trying to get hold of all the 830 odd species and subspecies in South Africa will take the rest of my life,'' he admits.
Ernest explains that it is not only the significant number of South African butterfly species and subspecies that makes collecting them such a monumental task.
It is also the fact that many of the endemics (which make up about 40% of South Africa's butterflies) are in their adult stage of life for only a few weeks per year in highly localised habitats.
The rare Wolkberg Zulu (Alaena margaritacea), is one such example, and Ernest has not yet personally netted it. This tiny butterfly occurs in only two locations near Haenertsburg in Limpopo and flutters about its habitat for only about a week in a year.
"I've never caught one myself because it means you need to be in Haenertsburg between Christmas and New Year,'' he says. "It only emerges over the Christmas period and by the first week of January, it's gone.''

New and rare butterfly discoveries
Over the years, Ernest has made spectacular discoveries, including finding critically endangered species that had disappeared from areas they had initially been discovered in.
"I'm proud to say that from the list of critically endangered butterflies I have removed three, purely by doing the fieldwork and finding the other places they were in,'' he says. "I've been everywhere in South Africa because each corner has something else.''
Finding rare butterflies can take years of planning, travelling and searching before success is achieved, says Ernest.
It took him no less than seven years to rediscover the Dickson's Opal (Chrysoritis dicksoni) that had disappeared from two known locations along the Western Cape's West Coast.
"I remember when I pulled the first specimen from the net, my fingers were shaking. I couldn't handle the butterfly properly,'' he says, recalling the moment when he first touched a live Dickson's Opal near Witsand in the Overberg area in 1990.
"But once I settled down, I found myself surrounded by no fewer than 12 of them – it was quite something. Their colonies are only the size of half a tennis court so if you're standing in a colony, they're all around you.''
On other occasions, however, a search for a rare butterfly has led to success with unexpected rapidity.
This was the case with the Scarce Mountain Copper (Trimenia malagrida) in 1992, which had apparently disappeared from the Struisbaai area in the Overberg region.
Ernest and his wife Ann began their search in Struisbaai to first confirm the butterfly's disappearance before exploring the rugged mountains near Cape Infanta.
However, on the way back to their accommodation, Ernest decided to stop near some ridges at the De Hoop Nature Reserve where he unexpectedly found a colony not far from the car.
"I remember walking out from the car and within 100m, I had the butterfly,'' he recalls. "It took me 24 hours to find that one and when we went back, there were hundreds of them.''
But perhaps the most rewarding butterfly discoveries he has ever made are the 18 new species and subspecies he has discovered.
These include one in the Baviaans River Valley in 1976 that he named Victor's Blue (Lepidochrysops victori) in honour of his father who had for so many years hunted insects with him.
One particularly memorable outing with Victor, which resulted in the discovery of the new Pringle's Arrowhead (Phasis pringlei) butterfly, played itself out in the rugged Roggeveld Mountains near Sutherland in 1976.
The two had split up to search for insects in the oppressive December heat, but the region seemed devoid of any butterfly life.
Eventually Ernest peered into a valley that seemed to hold permanent water fringed by some greenery, and he promptly clambered down – to be rewarded with the Phasis pringlei.
"When I saw it sitting there I knew that nobody else had seen it before,'' he recalls. "That was quite a thrill.''
He went on to spend another two hours in the valley netting several more specimens before returning to the car where Victor was fast asleep.
"What's taken you so long? There's nothing out there,'' he muttered when Ernest woke him up.
"Well, not exactly,'' was Ernest's satisfied reply.
Butterfly Reserves
Arguably the most famous butterfly that Ernest has been associated with is the Brenton Blue (Orachrysops niobe), formerly known as the Knysna Blue.
Not only did he rediscover it after it was thought to be extinct but he was instrumental in creating a reserve to protect it near Brenton-on-Sea.
It was the early 1990s. Ernest was driving with Ann on a bumpy dirt track near Brenton-on-Sea searching for butterflies when he suddenly spotted what he thought was a Knysna Blue flutter past the car.
He had long written off the species after its disappearance near Knysna and Nature's Valley, so was determined to confirm his sighting. He remained at the spot and waited.
"After about 20 minutes, another one came fluttering up the road just as I thought it would and I got it,'' he recalls. "Once we found that single specimen I then knew where to look for the others – it was in an area of about 1,5ha.''
It was with bitter disappointment, therefore, that soon after discovering the Brenton Blue, Ernest learnt that a R1,8 million development was about to be unleashed on its habitat.
He instinctively decided to fight and soon, the farmer and qualified lawyer had leveraged the support of various environmental non-governmental organisations in a legal battle to save the Brenton Blue.
These included the Wildlife and Environment Society of South Africa (WESSA), the World Wildlife Fund (WWF) and the Endangered Wildlife Trust (EWT). The result was the establishment of the Brenton Blue Butterfly Reserve (BBBR) in 1998.
"We had to reverse a development and persuade the government to expropriate the land. It is something we could only have done under [former president Nelson]Mandela's government – I realise that now,'' he says.
"You're clearly never going to impress the Zuma government with an argument about a butterfly."
The establishment of the BBBR also resulted in the establishment of the Brenton Blue Trust, which aims to protect endangered butterflies. It is currently chaired by Ernest.
It is hardly surprising therefore that by the time the concept of the Coega Industrial Development Zone and harbour began gathering momentum, Ernest was approached by the Coega Development Corporation in the early 2000s to help establish a reserve for the rare Coega Copper (Aloeides clarki) butterfly.
"Coega approached me and we sat down and looked at how much land they could spare which they fenced off long before building took place,'' he explains. "We've come to an amicable arrangement with them so we have no arguments from our side – we are happy.
"They said they would use the Coega Copper as a symbol for the development – a wonderful idea."
Additional sources: www.biodiversityexplorer.org, www.brentonbluetrust.co.za, www.sanbi.org and a Field Guide to Insects of SA (Mike Picker, Charles Griffiths and Alan Weaving).
Email Ernest Pringle at [email protected].