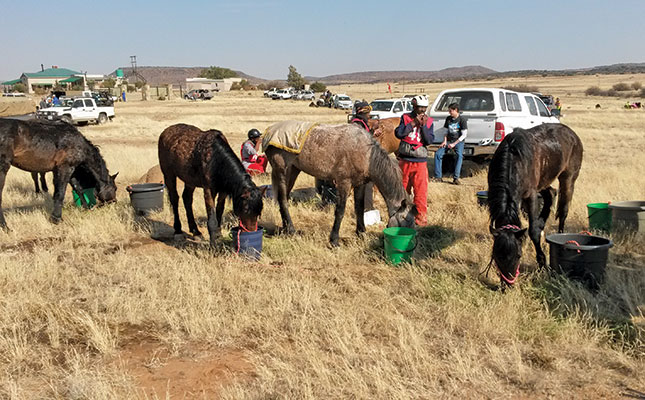 This year's Fauresmith 200 Endurance Ride started on Tuesday, 1 July, and ended on Thursday, 3 July.Fauresmith endurance ride test riders to their limits
Day 1 (74km in total) comprised three legs: 24km, 27km and 24km.
Day 2, also 74km, was a repeat of Day 1, but in reverse.
Day 3 was 52km, divided into two 26km stages.
Upon arrival at the rest points, the riders have 20 minutes to groom and water down their horses before taking them to the vets for a compulsory check-up. The maximum allowable pulse of the horse is 64 beats/min. It is also examined for lameness, hydration and gut sounds (a healthy gut can be clearly heard). If a vet thinks the horse is no longer fit to continue the ride, it and its rider are disqualified.
The horse is taken back to the show grounds, where it receives the medical assistance it requires. The horses that have passed the check are allowed a further 20-minutes' rest, during which they can eat roughage or concentrates provided by their riders. Then it's off on the next leg. It had been predicted that Fauresmith, which is about 130km south-west of Bloemfontein, would experience particularly cold weather. Fortunately, this failed to materialise, and midday temperatures were warm to hot. Of the more than 300 horses that started, 54% completed the ride.
Small beginnings
South Africa's first endurance ride was held in 1964 following a debate as to which breed of horse showed the best endurance. The ride was held from Hanover to De Aar to Richmond and back to Hanover, and was won by an Arabian. Whether that settled the debate is a different story! The ride was repeated the following year, but eight years passed before it was held again – this time in Fauresmith. Only 17 riders competed.
As the event's website (www.fauresmith.co.za) points out, the cameraderie and sportsmanship between riders was well illustrated in 2003 when Laura Woods, then a  Junior Springbok rider, stopped halfway through the race to assist another
competitor who had fallen. This year, that camaraderie was evident in another form: bridles, riding helmets and other necessities were donated to a group of Lesotho riders who arrived to take part in the race (see panel).
Numerous improvements were made to the route this year, says Jacques Augustyn, who has been chief ride master for the past 10 years. "Many riders thought the improved route would make the ride faster, but this was not the case," says Jacques.
The improvements have made the route much safer for horse and rider, but the course remains a tough challenge, he stresses.
At the end of Day 2, Lukas Fourie on Shakura led the Heavyweight category with an eight- minute lead over Jean Jacques Kasselman (Rudann Avoca). Jan Blignaut on Da-ah was in third place. In the Standard Weight division, Nardus Scheepers (Jactru Star) had a 10-minute lead over Sarel Venter (Cheree), with Francisca Strydom (Baahir Jireh Zuhrah) in third place. Hot on their heels, with only a second separating them were Corlize Kirstein (Joni Aliyah), Carlette van Eeden (Sanniguns Nimbus) and Minette Botha-Nortman (Thee Supremacy).
In the Lightweight division, Anne-Mari Scheepers and Pegasus had three minutes on Sarina Bosch (Mar-Dien Blue Jeans) and Susan Fouche (Kalishmar Shaya Moya), with Jackie Joubert on Sannieguns Venus trailing by three minutes. In the Junior division, only seconds separated Anja Lubcker (Arkab Tic Toc) and Adriette Jacobs (Sleipner Lina). In the Children's category, CF Scheepers on Schakker led Ulrich Bosch on Ratswolf Sazaan by five minutes.
As Day 3 dawned, it was clear that with mere seconds separating many participants, hard riding was on the cards. Horses departed according to their riding time over the past two days. Back at the show grounds, grooms anxiously scanned the mountain from which the last sprint to the finish line would be made.
Legends
Oom Ami de Wet (76), who first rode the Fauresmith in 1975 at the age of 35, and his friendly rival over many years, Appaloosa breeder Claire Amm (69), whose first endurance ride was in 1974, both completed the race this year. This feat meant that Ami has ridden in – and completed 33 Fauresmiths – and Claire 31.
This year, Claire's daughter, Lisa van der Linde, and granddaughter Emily, also competed in the ride. Ami marked the year with a second fine achievement: a 25 000km award for endurance rides. Another family excelled this year, making history in the process: Nardus Scheepers, CF Scheepers and Anne-Mari Scheepers became the first family to dominate the leader table at the end of Day 2.

Team Competition
Each endurance union enters a team of four riders (three in the junior section) who compete against each other and an Endurance Ride Association of South Africa (ERASA) team. The results were:

Junior/Young Rider
1st: Western Province
(time: 26:39:04);
2nd: ERASA (26:51:00); 3rd: Free State (29:18:20).
Lightweight
1st: North West A
(33:35:38); 2nd: ERASA (33:48:47); 3rd: Northern Cape (39:21:35).

Standard Weight
1st: North West A
(33:35:38); 2nd: ERASA (33:48:47); 3rd: Northern Cape (39:21:35).

Heavyweight
1st: ERASA (27:11:45);
2nd: North West
(28:24:18); 3rd: Free State (28:46:25).
Visit www.fauresmith.co.za or www.erasa.co.za.