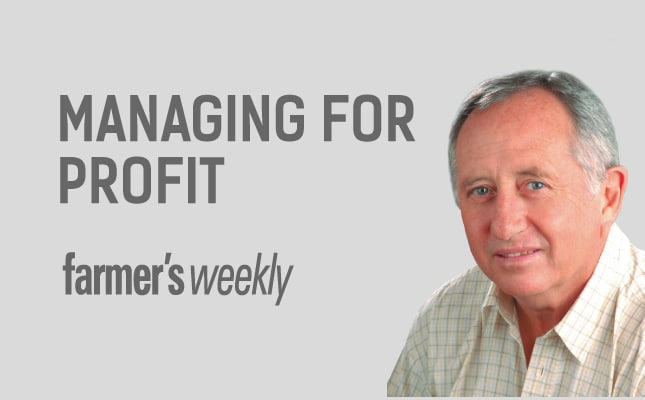 Growing up in the Eastern Cape, we knew only one destination for our annual holiday: the beautiful Wild Coast.
It was a magical place for children, and we dreaded the day of our homeward journey. As the end of the holiday drew closer, my mother, hoping to ease our pain, would say: "Remember, all good things must come to an end."
READ A sustainable approach to feeding the world by 2050
Many years later, I learnt that it was a proverb dating back some 700 years to the English poet and author Geoffrey Chaucer. Perhaps he, too, was trying to placate his children at the end of a holiday!
Later in life, I worked with a colleague and mentor who, whenever I bemoaned a change I considered regressive, would say with gravity and a twinkle in his eye, "Don't forget, Peter, nothing lasts forever."
Subject to these influences in my formative years, I was not well prepared to give a sympathetic reception to 'sustainability', especially in a business, which seeks to make 'all good things last forever'. I simply did not understand it, and soon discovered I wasn't alone.
The essence of sustainability 
Sustainable development is notoriously difficult to grasp. It encompasses social, ecological and economic theories, policies and practice, and, for the uninitiated, it's a maze of complexity and contradiction.
John Blewitt, author of Understanding Sustainable Development (Earthscan), was perhaps the first to provide a clear explanation of the concept for the layperson.
READ Financial planning: crucial to sustainable production
"Sustainable development is simple," he said. "It is the idea that the future should be a better, healthier, place than the present."
Who in their right mind could argue that this is not a goal worth fighting for?
The voluminous Millennium Ecosystem Assessment, published in 2005 under the auspices of the United Nations, got down to the nuts and bolts, and listed the following key 'Constituents of Wellbeing' of humanity:
Security: personal safety; protection from disasters.
Basic material for a good life: shelter, nutritious food, access to goods.
Health: strength; access to clean air and water.
Social relations: social cohesion, mutual respect and the ability to help others. But it was only when I discovered the US-based World Resources Institute (wri.org) that it dawned on me just how much responsibility for sustainable development rests on the shoulders of farmers. In its goal to provide for the needs of future generations, the WRI focuses on seven urgent global challenges:
Climate: Protection of communities and ecosystems from damage caused by greenhouse gases and contribution to a low-carbon world.
Energy: Making maximum use of clean, affordable power.
Food: Ensuring that the world's food systems reduce their impact on the environment, driving economic opportunity, and sustainably providing nutritious food to the people of the world.
Forests: Reducing forest loss and restoring productivity to degraded, deforested lands, and in so doing, alleviating poverty, enhancing food security, conserving biodiversity, and mitigating climate change.
Water: Achieving a water-secure future.
Sustainable cities: Improving quality of life in cities.
The ocean: Charting the path for a new ocean economy that is good for jobs, economic growth and human health, while protecting and restoring the ocean.
Every one of these sustainability challenges is affected significantly by food or fibre producers. Every farmer, no matter how small or large, has a role to play in contributing towards a sustainable future in each of these seven areas.
Are you playing your part?