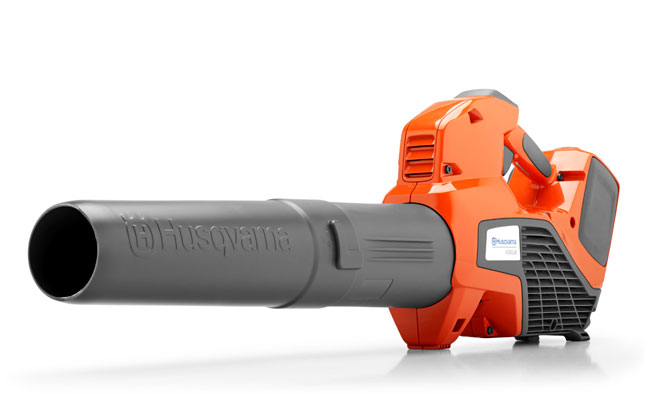 The load-reducing harnesses help prevent strain and increase productivity, and rubber inserts ensure a firm, stable grip at all times, as well as operator safety.
Husqvarna blowers are available in several sizes and power specifications:
Occasional-use blowers
The Husqvarna 125BVx is ideal for domestic use. It produces an air velocity of 76m/s, yet weighs only 4,35kg. It is also easy to use and well-balanced, thanks to the airstream being in line with the handle, and features a mulching function, auto return stop switch and cruise control.
Professional-use blowers
The Husqvarna 580BTS, with its high-output X-Torq engine, is the most powerful commercial backpack blower in the range, generating 26m3 of air per minute. Air-injection filters the air before it enters the motor, helping to protect it when operating in dusty, sooty environments.
The fuel pump is designed for easy starting, while the tube-mounted throttle control enables the operator to regulate the airflow effortlessly. A commercial-grade air filter ensures longer operating times and trouble-free use.
Specifications:
Cylinder displacement: 75,6cm3
Power output: 3,3kW
Airspeed: 92,2m/s
Weight: 11,8 kg
The Husqvarna 570BTS produces a lower volume of air than the 580BTS, but achieves a higher air velocity (378km/h). This makes it a particularly effective tool in fire-control applications.
Like the 580BTS, the 570BTS is powered by an X-Torq engine and uses a commercial-grade air filter.
Specifications:
Cylinder displacement: 65,6cm3
Power output: 2,9 kW
Airspeed: 105,6 m/s
Weight: 11,2 kg
Versatile-use blowers
The Husqvarna 436LiB is a lightweight (2,4 kg without battery) battery blower. A quick tap on the keypad starts the 436LiB instantly, and cruise control ensures worry-free operation, allowing the user to focus fully on the job. The 436LiB has an ergonomic handle, an airspeed of 46m/s, and a power-boost mode for extra airspeed when required.
For more information, visit www.husqvarna.co.za.
The Husqvarna Group is a leading global producer of a diverse range of outdoor power products and efficient solutions for forest, park and garden care. It is also at the forefront of innovation in the management and control of forest and other fires.