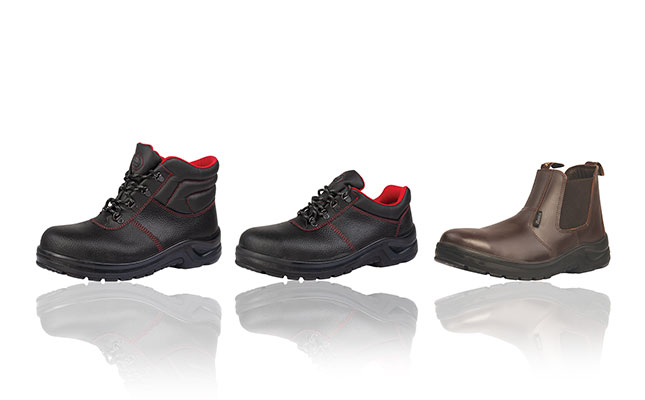 When deciding whether to choose safety boots or safety shoes, the decision shouldn't come down to preference only. Ankle support can be just as important as arch support for the protection and prevailing health of your feet, but it isn't always the most weighted factor.
Boots
Key considerations for choosing boots include the terrain. For rough and uneven terrain, boots could be the more considerate option as they brace the ankle better and hold the foot firmly in the boot to prevent twists and sprains.
Besides, if you are walking long distances daily, then a boot would provide more ankle reinforcement to keep your feet and legs healthy. This is because boots grip your ankles and direct them into a good posture for walking.
Even the lightest ankle protection can go some way to protect the ankle from injury. As boots are higher than shoes, they will better protect your feet from cold and wet weather too. Boots also give more protection to sideways bumps and bangs.
Shoes
The upper of leather used in safety shoes is thicker and more robust than that of casual shoes. Therefore, the internal environment of the shoe gets warmer and is more humid than a casual shoe. It means that a lining like Bata Ventair gives the shoe a good level of ventilation for foot comfort and health, and keeps the shoes in good condition.
When working in hot and humid conditions, a shoe is a better choice. As it covers less of the foot, shoes are generally cooler than boots as they allow greater airflow to keep the foot better ventilated.
Grip
Grip is also a consideration. When choosing between Bata's Induna Boot and Bata's Konga Shoe, the grip is the same, as they both have the same single density PU sole and are constructed from the same materials. So, it comes down to ankle support and your working weather conditions to decide between boots or shoes.
Regardless of your choice, factors like good fit will lead to a day-long 'firm footing'. Innovations like the signature and patented Boa Closure System is a novel invention that replaces traditional shoelaces and overcomes the inherent risks of improper fitting shoes and the safety risk of loose shoelaces.
Choosing safety footwear that is fit-for-purpose is vital for it to be an integral part of personal protection equipment. Bata's Induna Boot and Konga Shoe have an upper of leather and are suitable for general purpose wear, construction, agriculture and engineering. Available in both black and brown, there is a neutral colour to suit all work looks.
Safety footwear should perform under pressure. The most reliable way to ensure that you are purchasing footwear with the highest level of innovation and quality control is to buy footwear with the SATRA certification. Safety in the workplace starts from the feet up!
For more information, contact Frikkie Mostert [email protected]