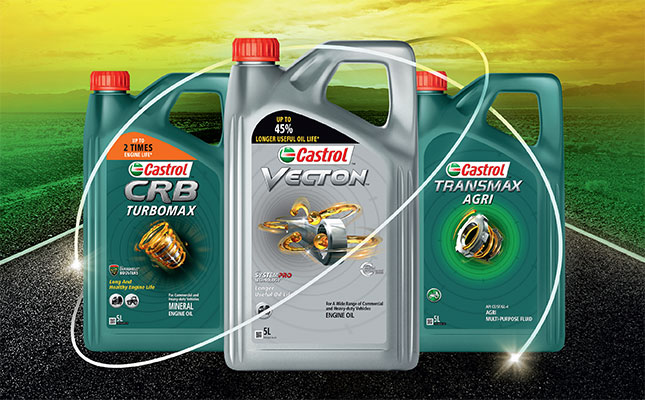 Powerful engines like those in trucks, buses and tractors are required to meet tough demands. To transfer heavy equipment from one place to another, carry passengers over long distances or plough metres of land, fleet managers and entrepreneurs need engines that are reliable, efficient and boost the lifespan of vehicles.
As emission guidelines become more stringent, finding the right oil for engines has become critical, with many fleet owners requiring an oil that provides fuel economy benefits and extends oil drain intervals without compromising on protection and performance.
Expertise and products ensure operational efficiency
Fortunately, there is an innovative and technology-driven oil brand that can cope with the higher engine pressures found in the industrial, transport, and agriculture sectors.
Whatever kind of heavy-duty vehicles you operate, Castrol has the expertise and products you need to ensure operational efficiency.
The brand is committed to making sure your heavy-duty engine oils are specifically engineered to deliver a longer life, with longer service intervals, even under severe operating conditions.
Each product in Castrol's range of oils addresses a specific engine need to ensure that every vehicle can perform to its fullest potential.
To help you prepare and maintain your vehicle for operations such as construction, landfill, mining and farming, Castrol has introduced Castrol VECTON with unique SYSTEM PRO TECHNOLOGY.
This advanced part-synthetic heavy-duty diesel engine oil offers longer oil life to help meet the rigorous demands of the agriculture sector.
An exceptional diesel oil, Castrol VECTON conforms to the latest engine oil specifications and is available in three viscosity grades.
It delivers up to 45% extra performance reserve that fights oil breakdown by controlling oxidation, reducing deposits, neutralising harmful acids and maintaining viscosity (based on tests conducted on 81% of the entire Castrol VECTON range by volume, in turn based on 12 months' sales up to March 2017).
Castrol CRB Multi
Also designed to provide superior protection within diesel engines is Castrol CRB Multi, a versatile, multi-purpose, heavy-duty engine oil that helps commercial vehicles to operate efficiently and last longer.
Castrol CRB Multi's versatility makes it a highly practical solution for heavy-duty workshops and mixed fleets. Its multi-purpose functions help keep the engine clean by protecting against oil thickening and deposit build-up in critical engine parts, delivering engine protection for a long and healthy engine life.
Drive sustainability now and in future
For a long and healthy engine life, Castrol comes equipped with liquid engineering capabilities that ensure that every commercial vehicle engine will operate at its very best.
Castrol VECTON and Castrol CRB Multi adhere to original engine manufacturer recommendations, making it a credible choice to help keep your business moving and avoid unexpected downtime.
Visit castrol.com/en_za.