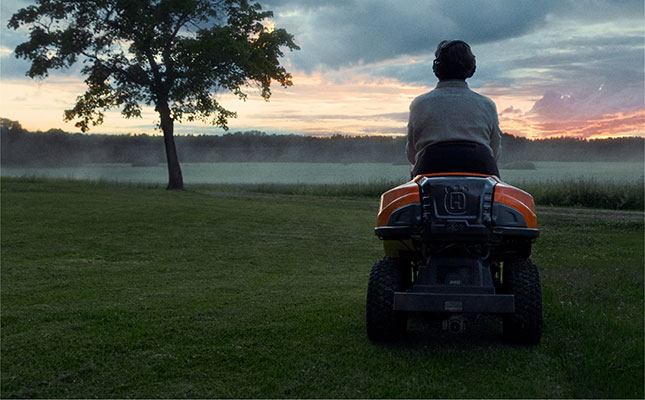 Choosing the right ride-on mower for the job mainly depends on the type of grass you will cut and what your garden looks like. With Husqvarna's Combi cutting decks, you have two cutting techniques to choose from: rear ejection or BioClip®. Here are a few things that distinguish them from each other.
Rear ejection for taller grass
If you are planning to cut taller, wilder grass, or coarser types of grass, it's better to go for a ride-on mower with a rear ejection cutting deck that can manage large amounts of grass.
BioClip® for finer lawns
If you have a well-maintained lawn that is frequently mowed,  BioClip® is the most suitable for your purposes. The finely cut clippings return to the lawn as fertiliser. All of Husqvarna's rider models have this option.
All-wheel drive
If your lawn can be slippery or is steep in places, or if you intend to use the ride-on mower all year round, an all-wheel drive (AWD) is a great investment. It gives you better traction when you need it.
Professional or landowner
If you are looking for a ride-on mower for professional use all year round, with larger areas to maintain, it is best to go with Huqvarna's advanced riders, such as the R420TSX AWD, equipped with features like headlights, an hour meter with service reminder and a premium seat.
If you are a home- or landowner you are probably better off with a R214TC or a R316TX (also available in an AWD version). These models are flexible and powerful, with high-torque twin-cylinder engines, and extra high efficiency. They are easy to use, have superior manoeuvrability and are a truly enjoyable ride.
Easy to drive and manoeuvre
All of Husqvarna's mowers have front-mounted cutting decks, so that you have better control over your working area. This type of cutting deck also allows you to reach under bushes and get closer to fences and walls.
These ride-on mowers also have an articulated steering system that makes them extremely easy to handle. You work more efficiently, and get great results faster, with less effort. In addition, a wide range of accessories helps you complete other garden tasks all year round. With or without AWD, the decision is yours.
Things to keep in mind when buying a Husqvarna rider
Various accessories are available to complement your rider for all year use like moss rakes, scarifiers, spreaders, trailers and front-mounted brushes for sweeping pathways and roadways.
Compare the range of Husqvarna's products and get more information on the rider page on its website or locate your nearest Husqvarna dealer at husqvarna.co.za.