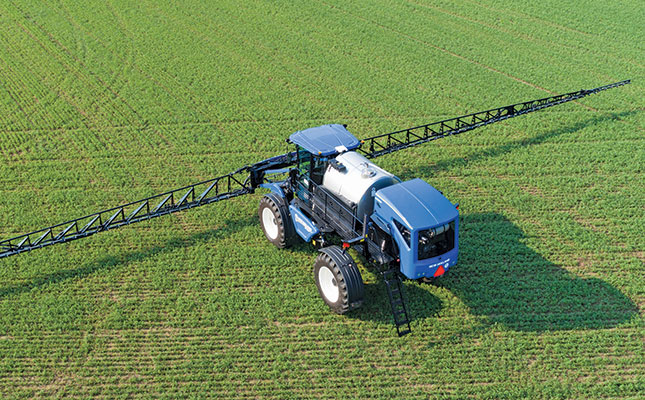 To begin with, the operator need never turn in his seat to monitor the spraying action; there is an unrestricted view of all the nozzles as they are located behind the boom.
Another strong advantage is that spray reaches the crop before the vehicle's tyres, eliminating the potential for dust to neutralise the spray.
In addition, the new models are lighter and their weight is distributed equally front and rear, reducing soil compaction.
"The all-new Guardian and Nitro sprayer models stand taller, cover ground faster and take advantage of cutting-edge Precision Land Management technology," says Tony Resh, speciality business manager for New Holland North America.
The company claims an industry-leading crop clearance of up to 2m, and the new sprayers have the flexibility to spray all crop types at all stages of growth effectively.
To further enhance productivity, the cab suspension can be adjusted to raise the height from 1,8m to 2m, depending on the needs of the operator. The suspension has also been completely redesigned.
The combination of the reliable 232kW FPT engine and an electronically controlled planetary drive transmission enables the unit to reach a road speed of more than 50km/h and deliver excellent fuel economy figures.
The cab has wide windows offering an outstanding view of the front spray boom. The multifunction controller puts all critical functions at the operator's fingertips for precise control of the transmission, throttle, boom height and individual sections.
Chemical injection for flexibility
In addition to New Holland's Precision Land Management technology, the new models offer chemical injection to be controlled separately from the water. This enables the rate of application to be varied across the land. It also allows the operator to use one chemical in one land and another in another land, without needing to stop and refill.
Dual placement system as an option
The NutraBoss dual placement system, which is available on special order, applies liquid nitrogen or other fertilisers beneficial to late-season crops near the root zone.
This reduces volatilisation loss and maximises nitrogen and nutrient efficiency, enhancing and improving yield.
The lightweight and flexible system uses a single point hook-up on the sprayer boom for fast conversion at minimal cost.
Small mounting brackets remain on the boom after the droppers are removed, allowing the latter to be re-attached easily when needed.
Joe Spencer is the mechanisation editor of Farmer's Weekly.