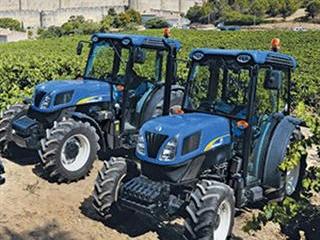 When New Holland's T4000F/N/V series was launched in 2009, the T4050F won the Tractor of the Year award for specialised tractors. Now the latest T4060F model has again won the award. The T4060F, together with the entire T4000F/N/V range, has been designed to offer outstanding operating efficiency.
A whole host of features ensure that growers can tailor the tractor to suit their needs. This includes a range of transmissions to choose from, while all 'F' models have the SuperSteer front axle, which produces the best turning radius in their class. The mechanical park lock ensures safety and the new PTO ratio further boosts operating efficiency with a 5% fuel saving. State-of-the-art systems, such as ECOBraud, meanwhile, enhance profitability for growers while reducing their environmental impact.
Information at a glance
When operating with the ECOBraud system, the FM750 touchscreen allows operators to monitor all the key machine parameters at a glance, including actual working speed obtained through the GPS signals, worked area, fertiliser application rate, as well as the amount of fertiliser still remaining in the bin. Advanced row tracing technology means operators know exactly which rows have been covered to prevent overlaps and also allows for easy night operation.
Speciality Spreader Kit
Within the viticulture industry, the pressure is on to meet tough carbon dioxide reduction targets. This is where the Speciality Spreader Kit available for the T4060F, and using variable rate application technology, comes in. First, the entire vineyard is mapped, and areas of high and low quality yield recorded.
New Holland PLM software then uses this data to create prescription maps indicating how much fertiliser should be applied in each area. This information is transferred to the tractor via a USB key, and the on-board precision farming package manages the application of fertiliser. Variable rate application helps growers optimise vegetation growth, thereby boosting profits.
New Holland's tests have shown the Speciality Spreader Kit reduces fertiliser application by as much as 15% – a significant cut in input costs. Moreover, when analysed in the context of the ECOBraud programme, spreader management reduces the in-vineyard carbon footprint by 10%. This contributes to the 10% overall reduction in the carbon footprint of each and every complete bottle of wine produced.