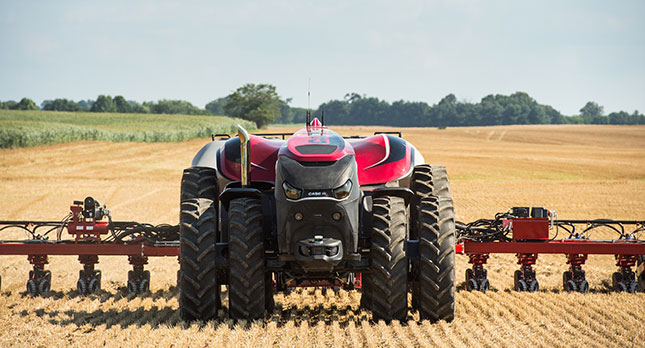 The recent Farm Progress Show in Iowa in the US saw the launch of two new concept tractors that look set to define the future of farm equipment. Both machines are autonomous, and can be remotely controlled with precision and safety.
The first of these, unveiled by Case IH, is based on an existing Case IH Magnum, but has no cab.
"The tractor demonstrates how our customers can remotely monitor and control machines," said Case IH brand president Andreas Klauser.
"This technology will offer customers greater operational efficiencies for tasks such as tillage, planting, spraying and harvesting."
The second tractor, New Holland's T8 Blue Power NHDrive concept tractor, has a normal cab, but it too can operate as an unmanned vehicle.
Going all the way: the Case IH concept
Klauser explained that the Case IH concept tractor had been built to evaulate the technology and gauge customer interest in future autonomous products.
The fully interactive interface enables remote monitoring of pre-programmed operations. The onboard system automatically accounts for implement widths, and plots the most efficient paths, depending on terrain, obstructions and other machines operating on the same land. The operator can adjust pathways and modify tasks via a desktop computer or portable tablet interface.
Through the use of radar, liDAR (light imaging, detection and ranging) and onboard video cameras, the vehicle can sense stationary or moving objects in its path and will stop of its own accord until the operator, notified by audio and visual alerts, assigns it a new path.
The vehicle will also stop immediately if the GPS signal or position data is lost.
The cabless Case IH brings together the latest in guidance, telemetry, data sharing and agronomic management capability. The operator can supervise the activities of several machines via a mobile tablet interface while attending to other tasks or even operating another machine.
A number of autonomous tractors can work as a single fleet, or simultaneously in sub-fleets assigned to separate lands. For example, one tractor could be used to pull a plough, followed closely by another operating a planter.
Two in one: the New Holland concept
Like its Case IH competitor, the New Holland NHDrive tractor can be controlled via a PC or portable tablet. A path-plotting screen displays its progress, and a second screen shows its live camera feed, providing up to four views, two front and two rear.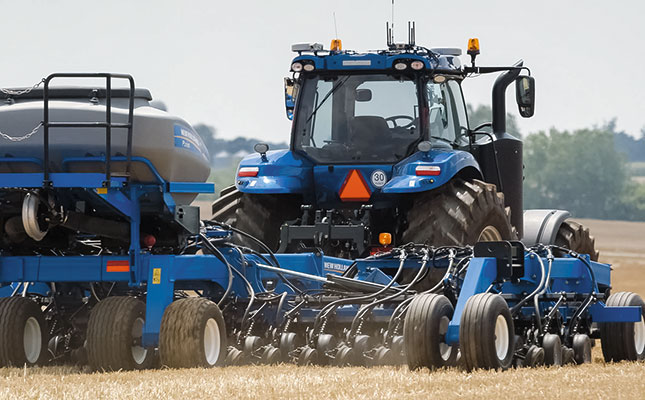 A third screen enables the operator to monitor and modify key machine and implement parameters such as engine speed, fuel levels and implement settings, including seeding rates and coulter down-force. If an obstacle is detected, the tractor sends a warning message.
Because the NHDrive tractor has a cab, it can be driven normally for operations such as front loader work and high-speed road transport, where complete autonomy is not yet possible.
The NHDrive tractor utilises PLM (precision land management) technology, so can be operated day and night. The tractor follows paths automatically generated by the software, taking into account the size and shape of the land, any obstacles and the width of the implement.
According to New Holland, the tractor will in future be able to utilise previously collected yield data to apply inputs at various rates and carry out the operation with maximum precision.
Watch the Case IH and New Holland autonomous tractors in action
Joe Spencer is the mechanisation editor of Farmer's Weekly.