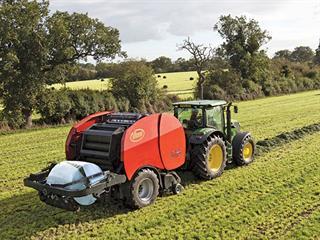 Designed and developed at the Kverneland Group's plant in Ravenna, Italy, the Vicon FastBale is a revolutionary non-stop round baler that integrates a pre-chamber with a main chamber and wrapper. The first section of the Vicon FastBale, operating as a pre-chamber, produces two-thirds of the bale. As the pre-chamber reaches its preset density, it shifts the pre-formed bale into the main chamber, and crop flow is diverted here to take the bale to its maximum size of 1,25m.
Once bale formation is complete, crop flow switches to the pre-chamber again. Netting is then wrapped around the completed
bale, the tailgate opens and the finished bale is transferred onto a polyethylene wrapper. This entire process enables baling to continue uninterrupted.
Another advantage is that the FastBale is shorter than any other baler-wrapper combination on the market, allowing for easier manoeuvrability. Unsurprisingly, the Vicon FastBale received a silver medal for innovation at the recent SIMA Show in Paris.
Bale transfer simplified
To make bale transfer easy, Kverneland devised a wrapper frame mounted on a parallel linkage. This enables the wrapper to be lowered to meet the completed bale as it rolls from the main chamber, avoiding the need for a complex transfer system. The wrapper is then raised to allow twin satellite arms to wrap the bale. Once wrapping is complete, the wrapper is lowered and the rear wrapper roller is raised, gently releasing the finished bale onto the ground.