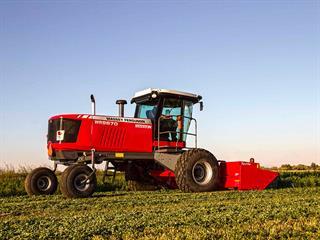 Hesston founder Lyle Yost introduced the first self-propelled windrower in 1955, and the first commercial model, the self-propelled Model 100, appeared in 1956. This was a ground-breaking advance in harvesting equipment, providing great versatility when harvesting hay, forage and grain crops, with a whole new level of manoeuvrability.
Decades of innovation
Over the years, Hesston's engineers have continued to add improvements, boosting efficiency and productivity. The windrower is now produced under the Massey Ferguson name and the WR9800 is the latest series.
A 168kW AGCO AP66-4F 6,6- litre six-cylinder engine gives the WR9870 plenty of power for the heaviest crop conditions. The WR9860, with the AP49-4F 4,9-litre four-cylinder QuadBoost engine, rated at 146kW, competes against opposition machines equipped with six-cylinder engines, but uses far less fuel.
The additional power provides a field speed of up to 28km/h and a road speed of 39km/h. Innovations introduced in recent years include the 4,88m-wide RazorBar cutter bed, which delivers one of the closest, cleanest cuts in the business.
In 2010, Hesston launched TwinMax double conditioning, the first system to use two sets of conditioning rollers for quicker drying. In 2011, the WR series was equipped with electronically controlled hydraulics, operated by a computer terminal. This provides precise control of all windrower functions.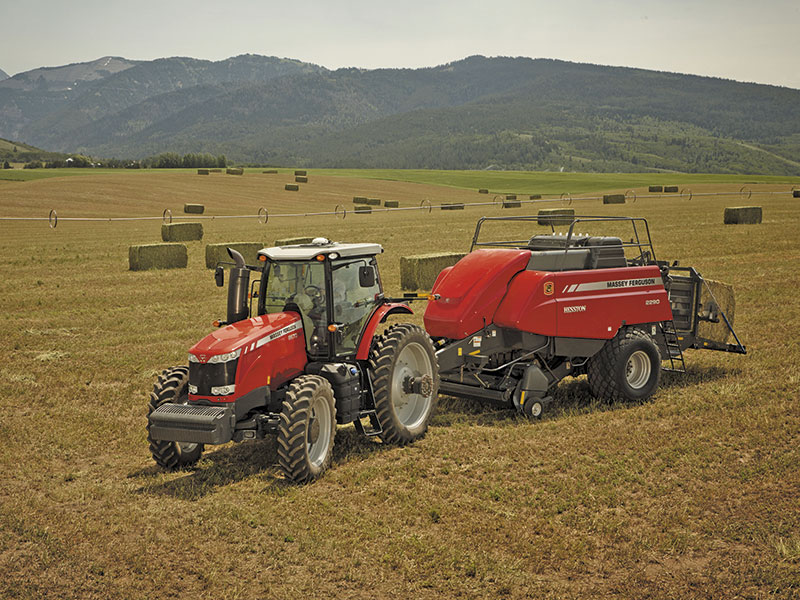 The Massey Ferguson 2200 series large square baler.
Balers
Hesston became equally renowned for its balers. The big square baler, introduced in 1978, boasted nearly 50 patents, and quickly became the baler of choice for large beef and dairy farms and for long-distance transport.
In 2006, Massey Ferguson and Hesston joined forces to produce a new line of hay equipment, now marketed under the Massey Ferguson name. With increasing crop yields, the need to bale excess residue continues to drive the demand for large square balers such as the Massey Ferguson 2200 series.
The growing biomass fuel industry also requires a durable, reliable machine able to handle a wide variety of crops, often in difficult conditions.
Ekundi Farming, for example, is a major producer of hay and biomass in Namibia, and a good example of how veld can be managed for large-scale hay production, generating income and, at the same time, improving veld condition.
Due to the high density of the bales produced by the MF2170XD big pack baler, trailers can be loaded to the full legal payload, making long-distance transport more economical, says Ekundi's Günther Kahl.
Joe Spencer is the mechanisation editor of Farmer's Weekly.