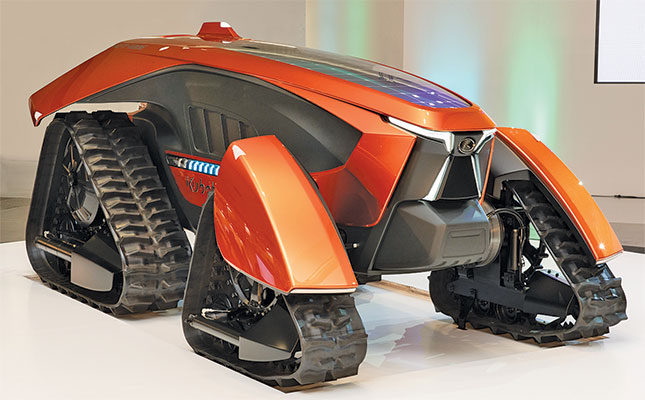 One of the latest fully autonomous, electric concept tractors to be unveiled is Kubota's 'X tractor – cross tractor -', which was debuted in Japan to commemorate the 130th anniversary of Kubota's founding, as well as to mark 50 years since the company first exhibited a concept 'dream tractor'.
Equipped with artificial intelligence, this latest 'dream tractor' is designed specifically to feature the technology needed to address the challenges facing Japanese farmers.
Improved on-farm efficiency 
As in other parts of the world, an increasing number of Japan's producers are reaching retirement age, while the average scale of farming continues to grow as a result of the accumulation of farmland for efficient management.
In order to address the challenges posed by these structural changes, and to improve on-farm efficiency, Kubota believes it is necessary to introduce smart farming.
The company says that for this reason, it would continue to develop technologies for labour-saving and precision farming.
Some of the key features of the new concept tractor include its 'futuristic design' and its completely unmanned operation by artificial intelligence.
"Based on various data such as weather data and growth rates, artificial intelligence chooses the appropriate operation and makes actions timely.
"Our goal is to achieve a completely autonomous operation. The environmental data obtained by tractors in operation can be automatically shared with other machines
at site to realise centrally managed efficient operation," says Kubota.
In addition, the tractor is fully electrical. Due to a combination of lithium-ion batteries and solar batteries, it produces zero emissions and reduces environmental loads.
The machine's design makes it suitable for diverse processes. Its four-wheeled crawler design enables it to achieve stable, autonomous driving even on wet paddies and uneven terrain.
Shape-shifting design for optimal height
According to Kubota, the tractor can change its shape to maintain an optimal height above the ground.
The in-wheel motor makes it possible to arbitrarily change the rotation speed of the four crawlers (front, rear, right and left) to achieve a small turning radius for autonomous operation on various types of land.