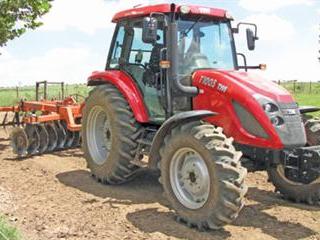 Based in Mooi River, KwaZulu-Natal, Greenfields Agricultural Holdings recently saw a gap in the market for a sophisticated intermediate size tractor suitable for general farm work. To fill this gap, it chose the Tong Yang Moolsam (TYM)range from Seoul, South Korea.
TYM has been manufacturing high quality tractors since 1960. The brand is known worldwide and has enjoyed considerable success in the US. One of the first TYM tractors in the field in SA can be found on Stuart Mackenzie's Loskop Farm in KZN's Karkloof district. He needed a 75kW tractor to operate the 12m³ De Laval mixer he uses to feed the 700 milkers and followers on his dairy farm.
The TYM T1003 has proved to be an ideal choice. "The Perkins engine has plenty of power to operate the mixer with up to four bales of silage and hay on board and the wet-disc clutch should guarantee long life for the transmission," says Stuart. "Major components, such as the Bosch electro-hydraulic hitch control system are from reputable suppliers, which gives me confidence in the brand, even though it's new to South Africa."
The tractor comes with three remote valves and an external control button which makes hitching of three-point mounted implements simpler and safer. A power shuttle allows shifting from forward to reverse without using the clutch – a boon when operating a front-end loader. The joy-stick valve simplifies the operation of the remote valves or a loader. The cab, meanwhile, is air-conditioned.
British farm machinery magazine Profi International recently assessed five different brands of tractors in the 60-75kW range for their suitability for general work on a livestock farm. The TYM, fairly new on the UK market, was initially regarded as a rank outsider, but judges were surprised by its overall quality and performance.