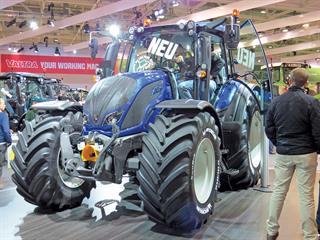 Valtra tractors are tested in extreme conditions, from sugarcane plantations in Brazil to the cold and snow of Finland. Pöttinger offers a comprehensive range of implements with the emphasis on soil and crop protection, intelligent technology and cost-effectiveness. Both manufacturers' products are distributed in South Africa by Valtrac.
New N series
Valtra has always produced powerful four-cylinder engines, and the latest are no exception. The new Valtra N Series comprises three models with 4,4-litre Agco Power four-cylinder engines: the 85kW N104, 92kW N114e and 99kW N124. Three models are equipped with 4,9-litre Agco engines: the 107kW N134, 121kW N154e and 126kW N174. With the power boost feature, the N174 can produce 136kW with 730Nm torque.
Options for the cabs include the Twin-Trac reverse drive system and luxuries such as a high-end stereo. Operators who carry out loader work can specify a window in the roof that offers an unobstructed view of the loader in its highest position.
The T Series
The 125kW T144 and 132kW T154 are powered by 6,8-litre, six-cylinder AGCO Power engines. The 140kW T174e, 154kW T194, 169kW T214 and 184kW T250 have 7,4-litre engines.

Power and practicality
The S Series is equipped with an Agco Power 84 AWF engine, AVT transmission, spacious cab with pneumatic suspension, Twin-Trac reverse drive system and Autoguide 3000 steering assist. Five models are offered: the S274 (199kW), S294 (217kW), S324 (236kW), S354 (258kW) and S374 (272 kW). The 8,4-litre engine can be boosted on all of the models (up to 300kW on the S374).
Novacat 352V
The new Novocat 352V rear mower from Pöttinger has a working width of 3,52m without conditioner. Its vertical transport position is ideal for tight cornering and a narrow field entrances. The unique hydraulic lower linkage arm enables easy mounting without having to adjust the tractor linkage drop arms.
The hydraulic Hitch & Mow lower linkage arm can be used to bring the headstock into the correct horizontal position independently of the tractor linkage geometry. The system optimises weight alleviation and provides excellent ground clearance (500mm on the inside) for headland turns and road transport.
The heart of the mower is the well-proven Novocat cutter bar, equipped with a quick-change blade system.