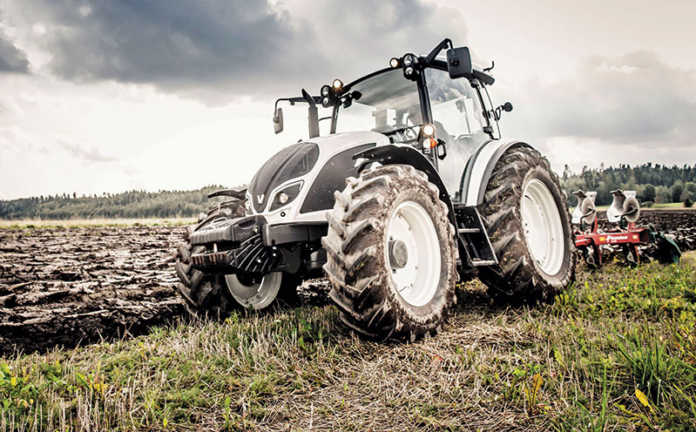 The much-anticipated Valtra A-series, launched at the SIMA show in Paris, received an important accolade when the A104 model was named SIMA Machine of the Year 2017 in the category for tractors under 118kW.
The A104 is one of seven A-series models ranging from 56kW to 97kW. It features the largest cab in its class, with considerable driving comfort and excellent ergonomics. Visibility is exceptional; there is no less than 5,5m² of window glass, plus the option of a high-visibility roof. This makes the A104 HiTech a superb loader tractor.
The A104 is powered by an AGCO Power 4,4-litre, four-cylinder, Tier 4 diesel engine that produces 75kW with 410Nm torque.
The model has many of the features that found favour with users of the N and T series, but transmission and hydraulics are entirely new: the HiTech power shuttle transmission is now supported by an easy-to-use mechanical transmission, unusual in a tractor of this size.
The 12 forward and reverse gears are organised in two groups, minimising two-lever gear changes and providing ideal speed ranges for both road and field operations.
Six of the speeds fit the typical fieldwork range of 4km/h to 12km/h. A super-creep option, with a forward speed as low as 90m/h, is also available.
Planned global growth
Speaking at the ceremony, Valtra marketing director, Mikko Lehikoinen, said that the award was an important recognition for Valtra and AGCO.
"The T4 and N4 Series won the 'Machine of the Year' award in 2015 and 2016 respectively, so this continued success demonstrates the strength of the fourth generation of Valtra products.
"The A-series is the market leader in Nordic countries, and with the new series we foresee strong growth potential globally. We invested in design, reliability and ease of use so that farmers can enjoy working with Valtra products."
In South Africa soon
Wynn Dedwith, owner of Valtrac, the South African distributor of Valtra tractors, said he was pleased to again have a competitive small Valtra tractor for the local market. T
he A4 Series should arrive in the country in the third quarter of 2017.
Joe Spencer is the mechanisation editor of Farmer's Weekly.