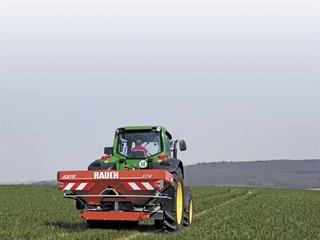 Fendt introduced the X Concept tractor at Agritechnica 2013, claiming to open up a new dimension of ultra-efficient solutions for agricultural work processes. Electrical power is transmitted to the implements by 700V DC supply via the powerbus. The powerbus also supplies power to internal tractor drives such as the electric fan and coolant pumps.
Based on the Fendt 700 Vario series, the X Concept is powered by a 147kW AGCO Power four-cylinder diesel engine with an integrated high-performance alternator.
The compact engine leaves plenty of room to place the components required for electrical technology, such as the alternator, the power electronics and the specialist heat exchanger. The alternator is positioned between engine and transmission.
With high-voltage interfaces at the back and front of the tractor, a robust 130kW can be developed, providing plenty of drive for electrically-powered implements. Using only one extremely compact power socket, it is also possible to supply power to any number of drives. The insulation and status of all lines and systems are monitored continuously. In the event of a malfunction, the system shuts down the power supply almost instantaneously.
Rotary rake
At Agritechnica 2015, Fendt presented a rotary hay rake featuring an innovative electrical drive, where the motor is directly integrated into the rake socket. This presents numerous benefits for the operation, adjustment and servicing of the rake.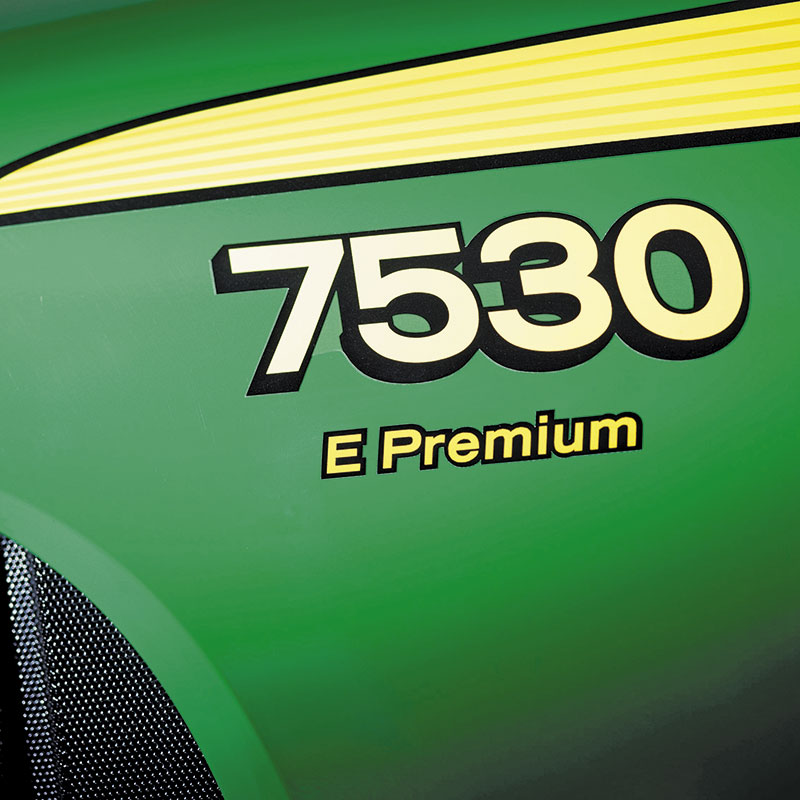 John Deere 750 E Premium logo.
Here in South Africa, John Deere introduced a tractor with electrical power output back in 2007. The 7530 Premium E has a 20kW AC generator in place of the flywheel on the engine. The aim was to develop a more efficient tractor by using the generator to power the internal systems, but JD engineers were also said to be looking to use the generator power to drive implements such as sprayers, spreaders and compressors and fans on air seeders. Few local farmers have adopted the tractor, however.
Rauch spreader
Currently, the Rauch AXIS- EDR spreader is one of the few electrically powered implements available in this country. Rauch claims that the award-winning spreader employs innovative technology to provide precise spread patterns from 12m to 50m wide, accurate spreading rates as a result of electronic mass flow and regulation, remote controlled boundary and border spreading on both left and right sides, and precise spreading on irregularly shaped lands.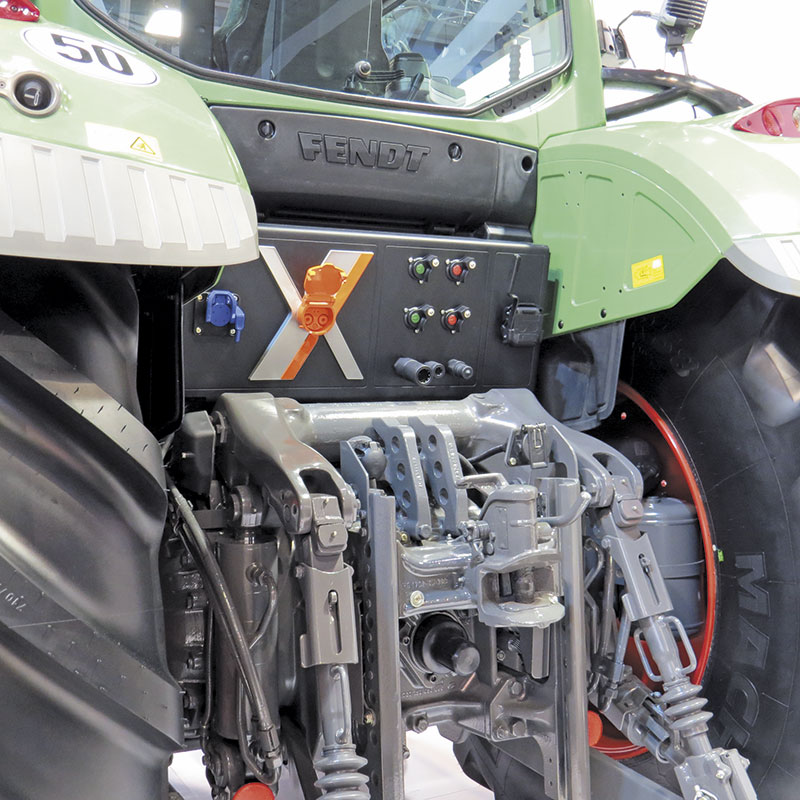 The rear high-voltage interface of the X Concept tractor.
An obvious alternative, yet limited options
Electrically driven implements are more environmentally friendly than hydraulically- or PTO-driven ones, and capable of providing a more efficient operation with lower fuel costs. Yet the choice available is extremely small. It seems to be a classic 'chicken or egg' scenario – very few electrically powered implements and even fewer tractors have available electrical power.
Joe Spencer is the mechanisation editor of Farmer's Weekly.