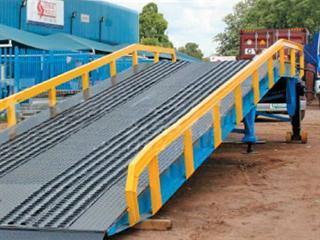 In contrast to a concrete ramp, the Cochrane mobile ramp is not a fixed structure that takes up valuable working space. Fully mobile, it is easily moved into position by the forklift. For a large-scale grain farmer working several farms some distance apart, or for a large-scale grain farming contractor who has to move large machines on a low-bed truck, the mobile ramp can be an invaluable asset.
Features
Heavy-duty all-steel construction;

Ten-ton capacity;

Ramp gradient of 9°, total length of ramp 11m;

Two-ton forklift moves ramp into position;

Heavy-duty legs support the ramp and its load;

Adjustable height version from 1 100mm to 1 600mm;

Fixed height version is set at 1 500mm;

Hinged loading ramps (dock leveller) accommodate a 150mm truck-trailer height difference up or down;

Optional centre legs are fixed or height adjustable by 500mm;

Corrosion-resistant open grate flooring with wet weather anti-skid tracks on the inclined section;

Safety features include forklift chains, container chain safety lock, and non-skid tracks;

On most competitive products, the truck or trailer supports the weight of the edge of the ramp;

Packs away into a 60m shipping container;

Ramp can be supplied in CKD form,

demounted and two-packed into a 6m shipping container.
It is priced at about R128 000, depending on the model and options. This price excludes VAT and delivery costs.