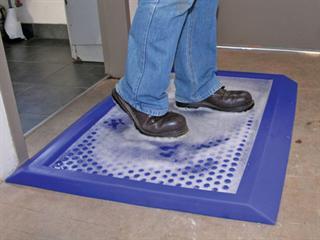 Bio-security in animal production and food processing facilities prevents transmission of viruses and diseases between animals and humans. Strictly enforced standard procedures include showering, washing hands and donning protective clothing and footwear before entering restricted areas.
Boot Guard, Branson Chemicals' specialised boot cleaner and sanitiser, has been developed for use in all foot and boot-washing stations. A built-in colour indicator shows when the solution has to be changed. Branson has also developed a compact 10l foot bath for placing at entrances and other critical points. To simplify application, Boot Guard is available in 50ml sachets, to be added to 10l of water.
For large facilities, an automatic foaming system, 'foams' the solution onto the entrance floor each time the door opens to ensure that the solution remains clean and effective. The bulk price is R589,38/25l, VAT excluded. A box of 25 x 50ml sachets costs R91,50, VAT excluded.