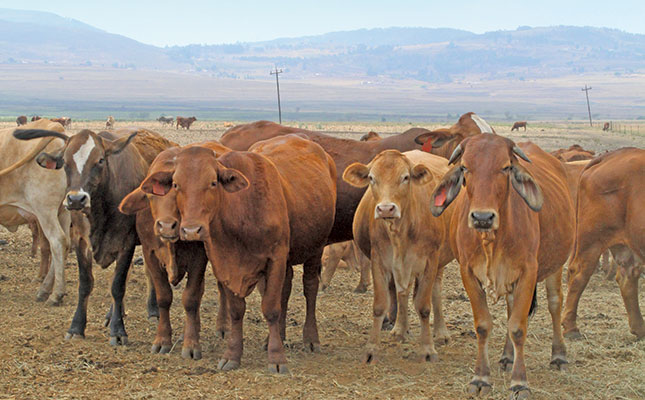 RiHugo farm near Mkhondo (Piet Retief) in Mpumalanga is no stranger to awards. Last year, Rian Maree was awarded the Mpumalanga Agriculture Young Farmer of the Year title.
Maree started farming full-time in partnership with his father, Hugo, in 2008, after completing a degree in agricultural management at the University of the Free State.
Within a few years, he began to achieve exceptional show results with the family's Brahman stud. At the World Brahman Congress, held in South Africa in 2014, his Brahman bull HHM 10 24 won the Supreme Champion award for the best animal at the show.
From there, HHM 14 22 was bred and went on to qualify for the World Brahman Competition, beating competitors within the Africa, Asia and Europe division. The bull then finished second in the North and South America division.
Breeding award-winning Braham stud cattle has its challenges, Maree admits.
"It's a competitive environment, and everyone's striving for high quality. You need to ensure that your cattle are better than your neighbours' to keep your business running and have repeat customers," he says.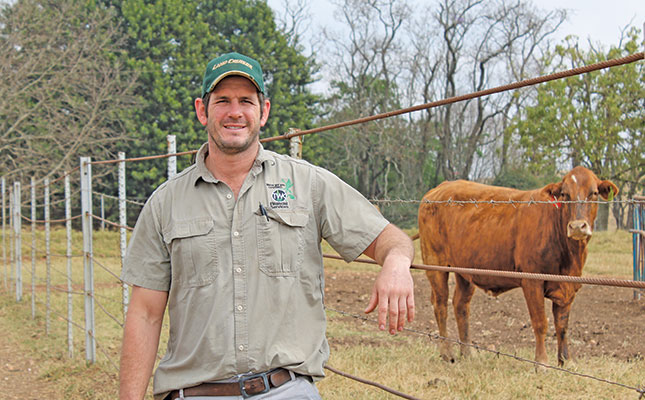 Attending cattle shows is part of the business's marketing strategy, and has delivered good results.
"You have to advertise your best animals and build a client base, and shows give us this opportunity. Doing well at the show means we get noticed, and get new clients. It's a lot of work and a huge expense, but it's worth it."
Stud production
The Brahman stud was started by Maree's grandfather, Heinrich, in 1981. Since then, the breed has proved its worth to the farming enterprise, and Maree says he and his father are extremely proud of this component of their diversified farming operation.
The stud consists of 80 stud cows and two stud bulls. They produce about 30 registered bulls a year, of which eight usually qualify for top stud bulls. Maree says that they aim to breed stud animals of a high quality in order to obtain high prices.
"This requires strict selection criteria. Bulls that don't make the grade are sold at three years of age as commercial stock. There's a good market for these in the area, as many farmers want a stud animal but are financially restricted. These bulls offer a good starting point to improve their herds."
The stud animals are sold at elite auctions in Ermelo, Parys, and at the RiHugo production sale, which is held every two years. The Marees also purchase a new bull every two years to introduce new genetics into the herd.
Maree says that during the selection process, it is important to select bulls with good meat characteristics, masculinity, structural correctness and an even temperament.
"Bad temperament has been bred out of our herd, so if we buy in new animals, this is an important trait we look for so that we don't breed it into our animals again."
Maree says they follow the established breed standards for a Southern African Brahman.
For the bull, this means a medium-framed, masculine animal with good muscling, good walking ability, fertility, adaptability, and structural correctness.
"For the cow, we also look for meat, but she must be feminine, with a finer build, show good udder development with fine teats, and be structurally correct. Milk production should be high and calving intervals short," he says.
Maree carries out embryo flushing on the stud cows, and then fertilises the ovum with semen from the stud bulls before artificially inseminating commercial cows. In his experience, this is a faster, cheaper way of improving the herd than natural breeding.
The production cycle takes place all year round; there is no set calving season.
"We can't miss a season as it reflects badly on the production figures. So, if a cow is not in calf, we immediately inseminate again," he says.
The stud herd graze on natural sourveld and planted pasture of kikuyu, buffalo grass and a mix of grasses marketed by the company Brazseed.
The herd is kept in camps close to the homestead, where they can be monitored easily. The carrying capacity of the planted pasture is higher, and the camps, averaging 10ha, are therefore smaller than the commercial herd's 100ha natural pasture camps. The camps are rotated to allow the grass to replenish itself. The calves have access to pellets to give them a nutritional boost.
Commercial herd
The RiHugo commercial herd consists of 300 Beefmaster-type cows and 11 pure Beefmaster bulls for weaner production. While the herd started out with Brahman-type crossbreeds, Beefmasters were introduced gradually due to their good weaner weights and adaptability in the district.
The commercial herd runs on a neighbouring farm that the Marees collectively own with their neighbours.
"The farm came onto the market and we couldn't buy it on our own at that stage, so I approached the neighbours, who were keen on buying collectively. It's working well for us and means that we were able to expand our farming enterprise that much quicker," says Maree.
The commercial herd grazes on natural sourveld pasture during summer and maize crop residues in winter. The total grazing area is 1 500ha. Planted Eragrostis is baled during the summer and used as additional feed in winter. The animals also receive a winter and summer lick.
The cattle are moved from one camp to the next according to grazing availability.
"Once the feed on the stover lands has started diminishing, and we can see the cattle looking for more, we know it's time to move them. There's no set rotation period," explains Maree.
"On the natural pastures, we work on a stocking rate of 1 LSU/4ha to 1 LSU/5ha. We monitor the veld to prevent overgrazing and move the cattle accordingly. The amount of time the cattle spend in each camp differs from season to season. If we've had good rain, this period is longer because there's much more grazing available. Managing these camps requires much consideration."
He notes that they have only just started the commercial herd part of the business, so production is not yet where it needs to be.
"Our calving percentage is 75%, with a 70% weaning percentage, which is very low because of several challenges we face as a result of being on the border with eSwatini. Bulls that come over from eSwatini onto our lands transfer venereal diseases to our herd, so it's a continual struggle.
"We try to maintain the fences as far as possible, but as soon as grazing on the eSwatini side diminishes, the cattle jump them to access better grazing on our side."
Maree works on a ratio of 25 to 30 cows to a bull, and relies on natural breeding.
Beefmaster bulls are bought at three years of age.
"We look for a structurally correct bull that carries a lot of meat. It's also important to select bulls with a medium frame to ease calving. Because it's a commercial herd, the animals are not looked after as intensively as those in the stud, so the cows need to be able to calf easily in the veld. These bulls are also replaced every three years."
Considering that the Mkhondo region is a redwater and heartwater area, he only buys bulls locally to ensure they are adapted and offer some resistance to these diseases.
They are placed with the cows in November, and calving takes place around September.
"When we buy commercial bulls, we look at their BLUP figures, paying specific attention to weaner weight and calf weight. We don't do performance tests on the commercial cows, as the farm only produces weaners from the herd, and this extra step isn't necessary.
However, the cows are monitored, and if one skips a calving season, it is sold. A heifer will get two chances to calve, but older cows have only one season.
"Once our cows reach 10 years of age, they are sold. At this age, the conception rate reduces and their ability to eat diminishes, so they have to exert more energy to feed. However, they are still relatively productive, so they can be sold as productive animals."
Email Rian Maree at [email protected].