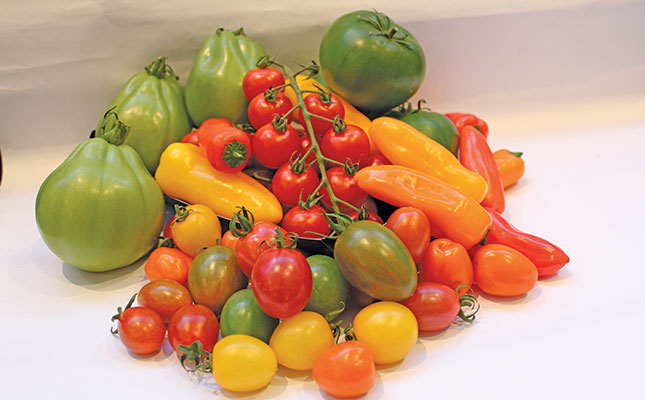 Simply Salads farms cherry and mini plum tomatoes in 3,5ha of greenhouses in Barberton, Mpumalanga. The location has two key advantages: a warm climate, which reduces the need for heating, and its proximity to a sawmill, which delivers the sawdust that the tomatoes are planted in.
Nevertheless, with their narrow profit margin, tomatoes are not regarded as a lucrative crop, and careful management of inputs and output is required to make a success of producing them.
Simply Salads follows a short cropping programme where two crops are planted annually, each on a six-month cycle, from January to June, and July to December respectively.
Peter Bakker, owner of Simply Salads, admits he would prefer a long cropping system of only one crop a year, as it would reduce input costs, but the expense makes it unaffordable.
"It would require significant investment to modify our greenhouses so they can handle a long crop," he says.
Instead, the farm has turned to other ways of cutting costs, such as eliminating the need for heating. The ideal temperature for tomatoes ranges from a minimum of 15°C at night to 25°C during the day.
"We don't use heating, as it's very expensive. Instead, we time our crops so they're not at a vulnerable stage during the coldest or hottest part of the year. Planting in January gives us a mature crop in June, with flowering taking place only after peak summer, so we don't have flower drop. Planting again in July means that the worst of the cold is over once the plants start flowering and developing fruit."
Another approach is to find the most suitable tomato varieties. As consumers show greater interest in specialty tomatoes, supermarkets aim to provide an ever-greater range of these. Simply Salads has therefore trialled over 100 varieties of speciality tomatoes in different colours and shapes.
"We're trying to find the tomatoes that are best suited to our climate and taste preferences," explains Bakker.
"We do a medley of different tomatoes for a supermarket group, so we need to get the right mix. When choosing a variety to focus on, we look for those that provide a high yield, are disease- resistant, are a good quality, and that fit the size specification of the particular market."
Production
Simply Salads has its own on-farm nursery where seedlings are produced for the greenhouses. A new crop cycle is started with two seedlings per 10ℓ bag of sawdust.
Charles Deane, production manager for Simply Salads, says that while the sawdust is not sterilised immediately before use, biological products are put through the irrigation system to sterilise the growth medium and keep it free of pathogens throughout the plant's life cycle.
"The local sawmill delivers the sawdust to our farm. It's free of charge because it's a waste product for the mill and they're eager to get rid of it. This is a huge cost saving for us, as growth mediums can be one of the most expensive inputs in greenhouse farming. Of course, emptying and refilling the individual bags after each crop is labour-intensive, and in that sense it's still a big cost element."
The farm uses a fully automated Priva fertigation control system, which irrigates the correct dose as the plants grow and require more nutrition.
"We have a fertigation recipe and the necessary inputs are drawn from the tanks," explains Deane.
"A weather system is also connected so that more irrigation is provided in warmer conditions, and less when it's cold."
The plants essentially dictate to the system how much fertigation they need.
"The Priva system keeps track of the outflow of irrigation from the bags to determine the correct irrigation levels. No outflow means the plants are being under-irrigated. If more than 30% of the irrigation being provided is running out of the bags, it's an indication of over-irrigation. The Priva system then corrects and regulates the irrigation so that the minimum is wasted and the tomatoes are kept in optimal condition."
Deane adds that the amount of irrigation depends largely on the weather.
"In winter, we stop irrigating at around 3pm, whereas in summer irrigating can go on until 6pm. The pump switches on automatically and will irrigate for the correct amount of minutes that is required per cycle. For instance, we do between five and eight three-minute cycles a day depending on the weather, using drippers that deliver at a rate of 1,5ℓ/hour. Each plant has its own dripper. The fertigation mix stays constant, with only the amount given increasing or decreasing."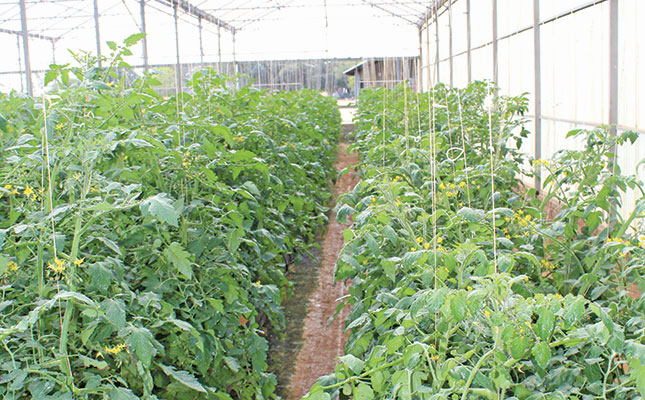 He explains that the fertigation recipe was formulated based on the water analysis taken from the farm's water supply and the needs of the tomatoes in that particular environment.
Bakker says that the only nutritional aspect that changes is the electrical conductivity (EC), which can be manipulated to obtain tastier tomatoes.
"But it's dangerous to increase the EC because this can dehydrate the plant. We start off at an EC of three and increase this throughout the season if we need to. Bursting fruit can be caused by low EC, as the fruit has taken up too much water. The pH level is kept between 5,5 and 6."
A calcium foliar spray is applied to the plants if there is a calcium deficiency.
"We also apply a kelp-based product through drip irrigation at the beginning of the cycle to stimulate root growth, and again later as a foliar spray to boost the plants if they're ailing or we want to induce flowering," he says.
The plants are supported as they grow taller and pruned when they get too close to the top of the greenhouse. Deane says the vines are not dropped to allow for longer vines and a longer growth cycle as this method requires far more ventilation to prevent diseases.
"With the two plants per bag we plant, we pick leaves off from the bottom of the plant progressively going up so that there is more light and better ventilation. We require a labour component of about 15 people per hectare. Harvesting takes place at least twice a week over a four month period. A yield of between 60t/ha and 70t/ha is achieved."
Inputs
Bakker has an acute dislike of using chemicals for pest control, and aims, as far as possible, to implement biological methods. He admits that this is challenging in terms of production and makes no economic sense, as clients do not pay a premium for biologically produced tomatoes.
"Still, I find that using chemicals to kill pests creates more problems in the greenhouse, especially if it's done as a preventative, scheduled spray."
Using chemicals with a crop like tomatoes, which are continuously harvested over a four month period, is especially difficult since withholding times need to be adhered to. Only chemicals with a withholding period of three days or fewer can be used during the harvesting period of the crop.
Diseases and insects that are prevalent include early and late blight, thrips, bacterial spot/spec, white fly, red spider mite and Tuta absoluta. Pheromone traps are used in the battle against T. absoluta to monitor populations and control them to a certain extent. Scouting is carried out daily, and only once the pest infestation reaches an economic threshold is action taken.
"We never spray preventatively, as it just opens us up to even more pests," says Deane.
Bakker adds that the pickers make the best scouts, as they work amongst the tomatoes regularly.
The farm experienced heavy white fly infestations in the past.
"This was just after we'd been spraying preventatively. Doing this kills all the predators and disturbs the natural balance."
Deane notes the importance of rotating chemicals to prevent a build-up of resistance. He keeps a detailed roster of each chemical applied and its specific withdrawal period. This then gives him a list of options for any outbreak of pests.
"Once you've done all the cross-checks you may only have one or two chemicals left at your disposal. Often the pests can get out of hand because there is nothing we can spray due to the available chemicals having too long withholding periods."
He uses biological products as far as possible, and has had much success with products containing Trichoderma fungi.
Market
Bakker says the changing nature of farming has necessitated specialisation to remain profitable.
"But seed for specialty tomatoes is very expensive and some just don't find a market, so it's important to invest in the right varieties."
He says that the greatest challenge in growing tomatoes is increasing yield.
"The price for tomatoes has hardly gone up over the last few years, but input costs are dollar based. With the constant eroding of the rand, our margins are under relentless pressure. South Africa is far behind countries such as the Netherlands and Morocco, which farm in a similar climate to us. Where we average a yield of 15kg/ plant/year, the Netherlands goes up to 30kg/plant/year and Morocco 20kg/plant/year. We're not reaching our potential.
"For the most part, I've figured out how to improve yield with a long crop, more sophisticated greenhouses, better ventilation, heating and cooling, better growth mediums and grafted plants, but the cost is prohibitive. With tomato prices remaining stagnant, it's not worth the investment at this stage.
"So we focus on utilising what we have to the best of our ability, and keeping our input costs low, while still producing a good-quality, sought-after crop."
Email Simply Salads at [email protected].