Hi
I have seen your column in Farmer's Weekly and hope you can help me. I recently bought a plot in Mid Vaal and am looking to build a house on it. I quite like the idea of using a steel structure with a corrugated iron roof. I would then brick up the structure to make a three bedroom, two bathroom house with an open-plan lounge, dining-room and kitchen. I would like to have a verandah spanning the front of the house (approximately 2m). The lounge and bedrooms would be facing north. Suggestions on the layout would be appreciated.
Thank you
Michael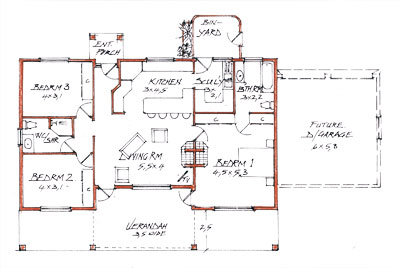 Hi Michael
Your request for a house with a metal structure for wall and roof support is a frequent request from prospective home builders. Think about it, you really don't need that metal frame to support the walls or roof of a residential home. Farm shedding and barns etc, yes, certainly. A metal structure would also limit your residential layout preferences with support steel stanchions placed at regular intervals. Other than that, the building would resemble a regular farm shed or chicken coop.
The perspective view showing the stylised roof configuration is really not that much more expensive to construct than
the plain one depicted next door. In the layout the verandah is 1m into the living area and also 0,5m longer at both sides.
The dotted verandah area can be enclosed if necessary to form a comfy sunroom. This offers you plenty of design freedom and options – take your pick!
Jonno
Author John Smith, better known as Jonno, can be contacted at Hillbilly Homes, PO Box 255, Estcourt 3310, tel 036 352 3178, fax 088 036 352 3178, cell 082 412 4459 or email [email protected]. Please provide details of the proposed development and any building material you have access to.