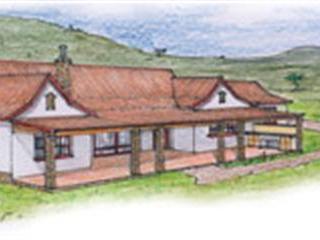 Hi Jonno
We have seen numerous plans published in Farmer's Weekly. We found the attached one very appealing and as we are proposing to build in Wakkerstroom, we have some ideas of our own that could well fit in with this one. Can you advise if there is any cost involved in the basic floor plan drawing and what the cost would be for a set of working plans for this house? We require a single storey that is bright and breezy, but warm in winter. I have included our thoughts/requirements, a copy of your drawing and two roofline options with the top one being preferred, the roof to be of corrugated iron/IBR sheeting. We would appreciate hearing from you.
Many thanks, Peter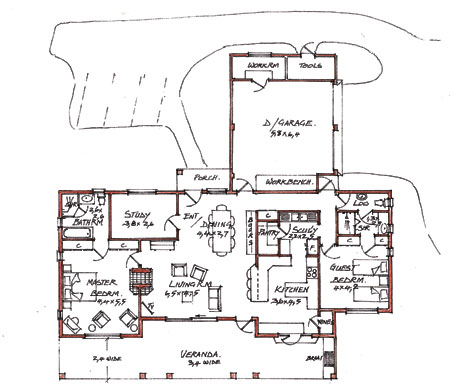 Floor plan
House: 155m2
Garage: 50m2
Verandas: 49m2
Good morning Peter
After our chat on the phone, I started conceptualising some ideas for your new home in Wakkerstroom, based on your written explanations. I thought I'd give you and your lady some food for thought, before you came to see me. Pertinent to the
layout is the two bedrooms on either side, with the living area central. The scullery has a half-wall between it and the kitchen, to let the light through; or there could be a roof light above.
The fireplace can serve both the lounge and your bedroom. The garage is at the back of the house and convenient for off-loading goods. Parking for visitors should also be at the back, out of sight. Style-wise, I've incorporated the dual-pitched roof you suggested (Asian/Balinese). I think the plinth and the veranda columns should be dry-stack or regular rock-work, in keeping with rural homes. All in all it is not too complicated construction-wise. Looking forward to your comments.
Best regards, Jonno