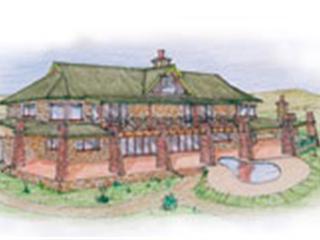 Dan from Durban came to see me. He had been pondering his retirement home in northern KZN. "It's where I grew up, and it's where my wife, Ellen, and I want to spend our retirement years," he explained. Snippets of styles and ideas, taken from magazines over the years, plus a well-thought-out rough sketch led to my rendition, which you can see here.
Dan has sourced a mock-stone cement tile that the entire outside of the house will be clad with. Dri-stack stone columns as shown, and a tin roof, to hear the rain falling, complete the picture. "Only two bedrooms, for such a large house?" I asked.
"No," said Dan, "I'll be building another three en-suite rondavels. We have four grown-up children with grandchildren aplenty. They'll be visiting us quite regularly."  "So glad to see people are still eager to invest in this beautiful country of ours," I said.
Jonno