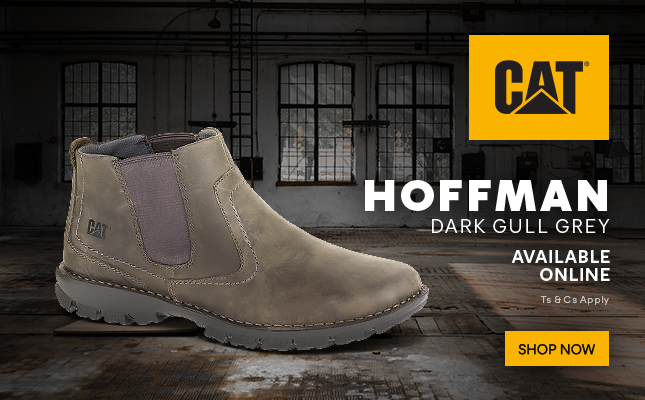 As a farmer, nature is your ally. That is why you are out there facing the elements when others are crying out for comfort. Stepping out on wet ground or wading through unpredictable terrain is what every day looks like to you.
So, you need a shoe that can offer you the comfort, protection and durability you need to focus on what's in front of you.
Cat Footwear has been a provider of industrial and safety shoes since 1988, making them your ideal partner in finding shoes that match your profession.
The Hoffman Chelsea
Who said that work boots need to look old-fashioned or dull in order to do what you need them to do? The Hoffman Chelsea boot comes in a variety of designs. The distinguishing factor of this style boot is the easy slip-on application and its timeless, yet contemporary, silhouette.
Inside-out functionality
From top to bottom and inside out, the Hoffman Chelsea is not just a good-looker. The boot is made using a combination of cement and handsewn construction methods to keep it together in the toughest conditions.
The outsole is made of durable rubber for supreme traction on wet and dry surfaces, while the EVA footbed is removable for longwearing comfort. Moreover, the soft, breathable nylon mesh sock lining prepares your feet for the longest days and most varied weather conditions. 
Nature's medicine
The Hoffman Chelsea boasts full-grain leather uppers, taken from the outer-most section of the hide, and are neither sanded nor buffed. Because it remains in its wild state and unstretched, it will naturally develop an upscale patina over time.
It ages like a fine wine, becoming more hard-wearing as you go. The advantages of a leather shoe are innumerable. And it only makes sense to be in nature with this natural material on your side!
So, take full advantage of what nature is providing you with a leather boot of the highest quality; a true representation of the quality you strive for day in and day out in the fields.
Visit catfootwear.co.za.