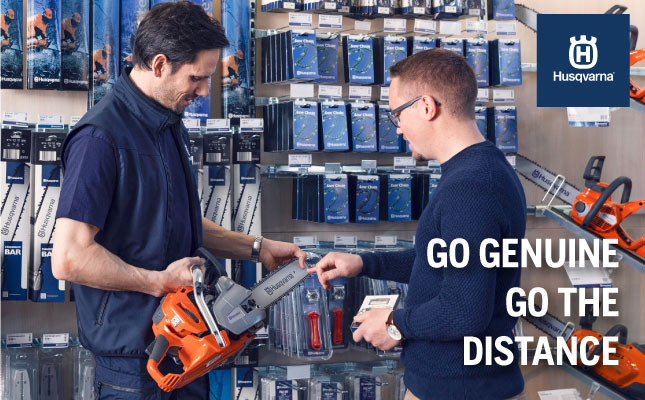 Whether it's a robotic lawnmower, chainsaw pressure washer or brush cutter, a well-functioning machine that's easy to operate, uses power as it should, and gets the job done is a thing of beauty.
That's why, when you buy a new machine, you should opt for the best. And the same applies when it's time to buy replacement or spare parts. Simply put: use the best for the best.
Some may feel that genuine parts are too expensive and that generic (or even counterfeit) parts will work just as well. This is simply not the case.
Before you buy a part based on its price alone, remember that you could end up spending so much more over the long term when those parts fail to deliver to the standards of genuine parts.
Genuine parts
The following lists some reasons why genuine parts are the way to go:
Quality counts: When it comes to performance and safety, genuine parts tend to be much better quality than generic parts. If the brand you are working with prides itself on superior materials and durability, genuine replacement parts will reflect that. Research shows that original spare parts tend to last at least twice as long as generic spare parts. This means that you get real value for money.
The perfect fit: Genuine parts are made especially for certain brands and models of machinery. This means they are perfectly factory fitted and will help the machinery function optimally or even better than before.
Less downtime: Because genuine parts are 100% fit, they tend to be easier to mount and they last longer, saving precious operational down time.
The right kind of repair: If your machinery requires repair, it's best to use genuine parts as they will not damage the machinery further, and will help to ensure it functions well after the repair. Moreover, most generic parts don't come with warranties, so there's no recall if things go wrong at a later stage. A one-year warranty applies to all Husqvarna genuine parts.
Longevity: Using genuine parts means less wear and tear on your machinery, as well as less repair and servicing time over the long run. This results in a longer product life and machinery that runs at its best, even with repeated use.
Keep it real
Genuine parts maximise product life, meet original equipment specifications, and ensure adherence to the highest safety and performance standards.
That's why Husqvarna believes its customers should always use genuine parts, especially when servicing superior machinery. For example, when it comes to replacement blades for Husqvarna's lawn mowers, only Husqvarna spare parts will do.
Other replacement blades simply do not live up to international lawn mower safety standards, as they have not been certified together with the machine.
In contrast, Husqvarna blades are the result of hundreds of hours of testing, meaning that it can guarantee perfect quality and fit, strict adherence to safety, noise and vibration regulations, and superior performance.
Buying a product from Husqvarna's wide range of parts and accessories means that its customers can count on the best possible durability and protection while also enjoying the power and efficiency they've come to associate with Husqvarna.
For more information, email [email protected]