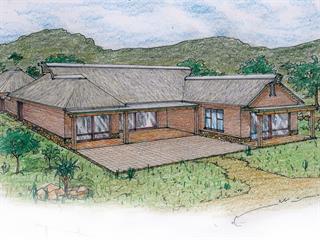 Good day Jonno
We are keen to proceed with the development of our property at a mountain estate in North West. We have draft plans and have attached a picture of roughly what we have in mind. However, we are open to suggestions for improvement.
We want a small house with two bedrooms, built of a face brick and stone combination for the walls and aluminium for the doors and windows.
We would like a proper thatch roof covered with metal or slate tiles to offer protection from lightning strikes, fire and baboon damage, but at the same time allowing for the temperature control that thatch is renowned for, as well as that lovely holiday feel.
We would like the garage roof to be constructed in the same manner as the house, so that at a later stage, should we wish to extend the property, we could convert the garages into a living area and add on new garages.The property is heavily wooded, which we like, and there is a possibility that we could build around some of the trees. Others would have to be removed.
Kind regards
Sheelagh
Dear Sheelagh
Thanks for your home project. Herewith the layout and perspective sketch, based on the images sent. I have improvised a bit here and there. Increasing the room sizes slightly, as your measurements indicated, did not allow for wall thicknesses.Therefore I've added these to the length and width of the house.
I've shown the furnishings to scale, so that you can estimate if the rooms are large enough. Bedroom cupboards can be placed accordingly. The roof spans shown are across the width of the house segments to preserve the internal thatch aesthetics. You can cover the thatch externally with a metal or slate covering.
I'll detail the methods in my final working drawings.The roof over the porch and sliding doors is of flat metal sheet covering which can be topped over with a mix of Styrofoam pellets and cement for thermal control. This roof is at a shallow angle and its underside can have a ceiling cover of thatch or reed.
An al fresco braai area and selected trees can be incorporated into the open deck in front.
Please send this sketch to the game farm committee for their prior conceptual approval.
Looking forward to your further ideas.
Regards
Jonno