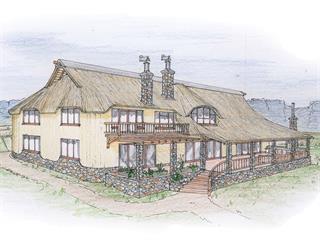 They had very definite ideas about what they wanted. The house must face the west for the view and they want plenty of light all round for warmth. They liked the idea of having double the light in the living room, with a large dormer roof window, as the veranda would block off most of the sun.
The main bedroom and en-suite bathroom must both have a view of the mountain. Besides the bedrooms for each of their children, a study was a must, as a recreation room and a place to do homework.
A veranda and entertainment area along the front of the house with doors opening from the living areas was a specific request. They also want fireplaces in both the main bedroom and lounge for those cold winter days.
They always dreamt of having a thatched roof. I've kept the first floor external walls at 1,8m to create coziness for the upper level, as the huge roof still extends another 5,5m up to the apex.
Being very animal-orientated, it was necessary to have a special shelter for their many dogs.
I think I have captured most of their ideas. Good luck with the building!
Jonno