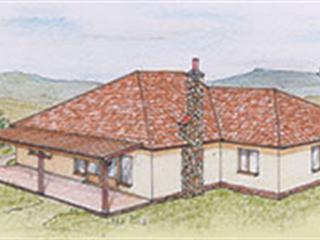 Hi John
I trust you are well. I was given your details by my father in-law and was hoping you could assist with some plans for a small two-bedroom house we want to build on the farm. I have attached a rough drawing of the slab. Building materials are not an issue. We want a bedroom for ourselves and one for our baby. One toilet and bathroom will suffice for now. We would also like an open-plan layout for the living area/dining-room/kitchen.
We will be installing a septic tank on the right side of the house so I thought it would make sense to build the kitchen and toilet on that side of the house. Please let me know your thoughts and costs to have such a plan drawn up. We are pretty keen to get the building started. I look forward to your response.
Kind regards
Clive
Hi Clive
Thanks for the sketch sent with the measurements of the existing foundation slab size. I've prepared a layout for your two-bedroom cottage, for which there are numerous possibilities. Added to the existing foundation slab is the veranda which I thought should not be incorporated onto the existing slab, as it would take up precious living area in the lounge/kitchen. The plumbing is all on the septic tank side and the backyard carport for easy access to the kitchen or front veranda.
The styling is typically that of farm homes. The roof over the veranda is corrugated. Let me know if you require any further changes, as with usable material and perhaps the windows and doors from the demolished cottage.
Regards
Jonno