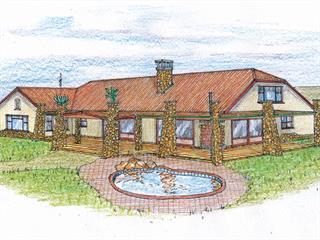 Hi Shawn
Thanks for the informative site meeting on your new 840ha game farm near Weenen. Attached are the plans for your proposed new home. I have improvised on the plans you have drawn up as you wanted to reduce the size of the building and make it more user-friendly.
So, while incorporating most of the features, I've reduced the size of the roof from a 14m span to 10,5m. The lower pitched veranda roof is more 'farm-style' and adds to the features. The roof gable and window will allow sunlight into the double volume living area.
You wanted to collect rainwater run-off from the roof. This is still possible, as the gutters will be protruding horizontally through the stone columns and vertical downpipes will also jut through some of them.
In addition, I've reduced the total floor area of the house by 53m². This space has now been converted into an outside living area to allow plenty of space for the family. All furnishings are shown to scale.
Please let me have any further thoughts.
Jonno