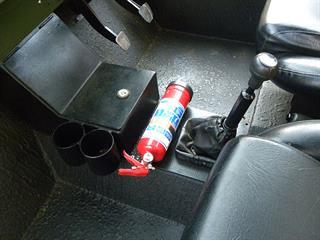 Years ago, while driving on a dirt road, I became aware of the smell of a veld fire. Not seeing any, I glanced in the rear-view mirror and saw smoke trailing behind the bakkie. I braked and baled out even before coming to a stop. Grass had collected on the underside of the bakkie and caught alight on the exhaust pipe. I lost no time in retrieving an ancient fire extinguisher – thankfully it worked.
Ever since, I have carried a suitable fire extinguisher in the vehicle. The most basic rule is to use the appropriate class of extinguisher for each type of burning material, or it can worsen matters:
Class A: combustible organic materials such as paper, wood and most plastics.
Class B: flammable liquids such as petrol, kerosene, grease and oil.
Class C: electrical equipment such as appliances, wiring, and outlets.
Vehicle fires typically involve A-, B- and C-class fires, and an ABC-class extinguisher would therefore be appropriate in this case.
There are other classes of fire, such as Class F (cooking oils and trans-fats, typically found in restaurants and kitchens), but fire extinguishers for these are unsuitable for vehicles. The next rule is to use the extinguisher correctly. For more information, visit safequip.co.za.
SafeQuip is a well-known brand of SABS-certified fire extinguishers for all automotive, industrial and household requirements. Its fire extinguishers are designed for easy maintenance. The FireMate range of dry chemical powder extinguishers, which uses 40% mono- ammonium phosphate as the active ingredient, is rated for Class A, B and C fires. It is available from 0,6kg to 9kg sizes from Naskar branches countrywide, starting at about R129 (incl. VAT).