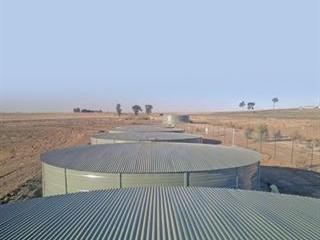 Rainbow Reservoirs has installed six identical 358 000l water reservoirs at a newly commissioned abattoir in the Free State.
Four of the reservoirs are being used to store a 10-day reserve in the event of interruption of the municipal water supply, one stores water heated by the abattoir's fast-freeze processes for use in lieu of water heated by conventional geysers while the sixth reservoir stores the abattoir's washing water waste, tapped by local farmers to fertilise their crops.
Rainbow supplied all tanks in a special 'wilderness green' instead of the standard steel finish, to blend into the surroundings.
Abattoirs are large consumers of water, South Africa's 300-plus red meat abattoirs together requiring more than 6 million cubic metres of water annually. A reliable supply of high quality water is essential because of the hygiene standards dictated by human consumption of the end product.
Rainbow's range complies with all generally accepted standards applicable to liquid storage reservoirs worldwide. Walls
are thicker than those of most similar products on the local market. They are constructed from structural steel panels, hot-dip coated with a highly corrosion-resistant Zincalume alloy.
The optimally balanced domed roof ensures maximum strength. Each reservoir carries a 10-year warranty, with a projected lifespan of 40 years or more.The price of a 360 000l reservoir is around R126 000. Installation by accredited installers would take around three days at R1 900 per day.
Contact Wayne Thompson on 015 297 7640 or email [email protected].