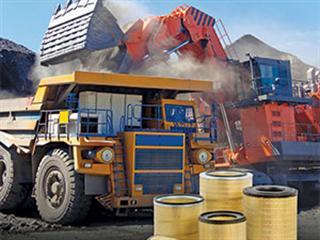 Hytec Fluid Technology, one of SA's leading suppliers of fluid management technology and condition monitoring equipment, has introduced a new range of innovative extreme performance heavy-duty air filters. Baldwin Extreme Performance filters use the patent pending, proprietary ProTura nanofibre technology to provide unequalled performance.
They are ideal for high dust environments and demanding applications. ProTura nanofibre media is fabricated from submicron diameter fibres bonded to cellulose media. This catches and retains submicron-sized contaminant particles before they reach the cellulose sheet.
The filters offer significant benefits over conventional cellulose-only media. These include higher initial efficiency, greater capacity, longer service life, lower restriction, longer engine life and, eventually, reduced operating costs. The range includes 10 new heavy-duty filters, with an additional 30 to be released later this year. It caters mainly for engines in heavy industrial, earth moving, mining and agricultural machines but will be expanded to other housing sizes and models according to market demand. Prices vary according to model and are very competitive with those of conventional filters.