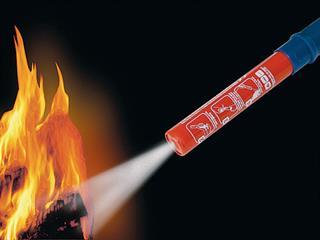 Fire Stryker is a new generation flame inhibitor that's small and unnoticeable, yet could save a lot of lives.
It's baton-shaped, ultra-portable and smaller and lighter than a conventional fire extinguisher. It needs no service, refills, checks, or maintenance, and has an unlimited shelf life. It extinguishes fires using potassium nitrate, which is environmentally friendly, non-corrosive and non-toxic, and leaves no residue.
As it isn't pressurised, it can't explode or malfunction. Accidental ignition is impossible as a lid protects the first component. The second component, inserted as a cap handle, is a scratchable head piece made of phosphorous. To extinguish a fire, hold the Fire Stryker's handle and pull off the black lid. Remove the black cork at the top and rub it against the scratchable bottom piece. Direct the Fire Stryker at the base of the flames and move in circular motion.
The Fire Stryker extinguishes fires in:
Class A: Solid material, such as wood, paper, fabric and plastics.
Class B: Flammable liquids, such as petrol, oil based paints, solvents, alcohol, acetone.
Class C: Electrical equipment at voltages up to 1 000V and a distance of 1m; cable galleries, distribution cabinets and electronics.
Class E: Gaseous category: LGP, methane, acetylene, etc.