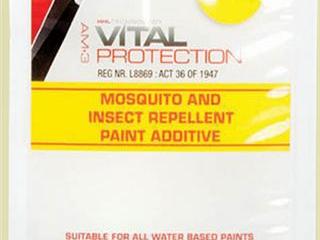 HHL Technology and Massmart have announced the launch of Vital Protection AM3, a new insect repellent paint additive to provide long-lasting protection against insects. Added to water-based paint for indoor and outdoor use, it ensures effective insect protection. Independent tests have demonstrated that treated surfaces effectively repel and knock down such insects. Registered in terms of Reg No. L8869: Act 36 of 1947, Vital Protection AM3 is simply mixed into any water-based paint at 20ml per 5l to provide protection for up to 36 months.
In addition to keeping dangerous and annoying biting insects at bay and helping to curb the spread of malaria, Vital Protection AM3 has anti-bacterial and -microbial benefits and inhibits bacteria, mould and fungi. It is odourless and allergen free, and has no side-effects. Vital Protection AM3 is useful in dairy parlours, poultry and pig houses, stables, greenhouses, kennels, food processing facilities, laboratories, schools, medical facilities, store rooms and workshops, amongst others.
It is available at Game stores countrywide at a price of R29,99 per 20ml sachet.
For more information on these products, contact 011 889 0836 or email [email protected]. Subject line: On the Shelf.