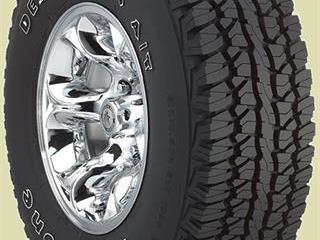 When I fitted new tyres to my DTV Roadrunner 4×4 in 2011, I chose the Firestone Destination 4×4, size 215/80R15C on its 7J x 15 steel wheels as recommended by the manufacturer. Five years later, I have no hesitation about replacing them with exactly the same make and model of tyre.
The overall diameter of the tyre is 725mm and the tread is 215mm wide.
The DTV, a small, rugged 4×4 vehicle manufactured in Bloemfontein, weighs 880kg empty and 1 280kg laden. This relatively low footprint pressure on what is really a heavy-duty bakkie tyre enables the tyres to run at 1,2bar. The manufacturer recommends 1,0 bar front and rear (no load), 1,5bar front and rear (loaded) and 0,8 bar front and rear (sand).
I check the cold pressure weekly and top it up with air every six months. I've deflated the tyres down to 0,8bar only once – to get out of very deep and soft sand. I travel with the DTV on all manner of roads: tar, gravel, sand, mud, mountain tracks and the occasional 4×4 trail. I've occasionally needed to lock the diff.
The tyres have always got me out of trouble, except once on very slippery mud that necessitated a pull-out. I also had one puncture, courtesy of a 6mm self-tapping screw lodged in the tread. I fitted the spare (never used before), removed the offending screw with a screwdriver, and inserted a sealing plug into the hole. The seal held and I switched the wheel and the spare back.
Tyre structure
Destination tyres offer a decent ride quality, low noise levels and good traction in wet and dry conditions. This is due to the tyre's structure, tread compound and tread pattern. The tyre incorporates high-tensile steel cord belts, reinforced with nylon spirally wrapped over a polyester cord casing for strength and ride comfort.
The compound is enhanced with long-link carbon to balance wet road performance and wear resistance, with resistance to cuts and abrasion off-road. The tyre has a symmetric all-terrain tread pattern with a continuous centre rib flanked by independent blocks and wrap-around shoulders.
This ensures stability on the tar and traction off-road.
Circumferential and lateral grooves enhance wet weather traction, while faceted tread blocks and deep sipes improve traction on loose surfaces and snow.
With about 85 000km on them, my tyres have to be replaced. Not because they are worn – I'm certain they have at least 15 000km left in them – but because they are five years old. The rubber is showing subtle signs of deterioration.

Firestone Destination 4×4 tyres, size 215/80R15C, are priced at about R1 350 each, excluding VAT, at tyre dealers countrywide.