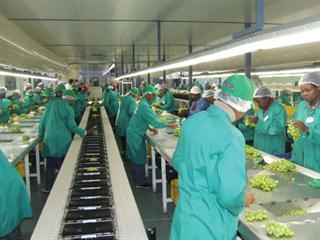 The Vizier Grapesizer, a recipient of a prestigious SABS Design Excellence Award in 2011, automatically grades table grape bunches to colour, berry size and weight quicker and more accurately than by human hand, delivering precise weight groups per class for packing. The accuracy of grading and sorting, as well as throughput rate, significantly improves profitability.
The system is based on a normal cup-conveyer system. Cameras with infra-red and normal colour spectrum light automatically measure the parameters of the grape bunches passing under them. Coloured lamps show packers at separate packing plates which bunches to take and pack into punnets or boxes.
A red lamp indicates that a bunch must be taken for packing and a green lamp indicates the last bunch for that pack. Extensive integrated diagnostic features simplify and optimise the system's operation. Real-time internet connection enables remote support and guidance to the operator.
The Vizier Grapesizer's ability to classify bunches makes it a definite asset for any farmer or pack house operation keen to increase productivity, efficiency and profit. When punnet packing, the Vizier system is 20% more efficient than conventional classing as it significantly reduces overpacking percentage and wastage.
It is also being used for other high-value fresh produce (pomegranates, spring onions and peppers) outside the table grape season. Currently there are around 50 systems in operation in South Africa. Systems are professionally installed, with training and back-up service included. The price installed, excluding transport, is about R750 000 (excl VAT).
Contact Bernard van Zyl on 021 852 5177 or email [email protected].