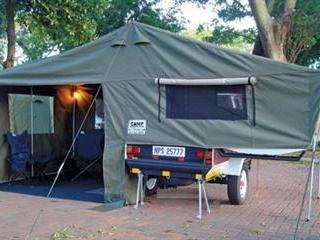 There must be thousands of trailers standing idle in garages that can get a new lease on life with a CampinVenter for your next getaway. This interesting concept by Cor and Freda Blackie will convert your trailer into a camping trailer. A provision is that the trailer must have a lid and a removable tailgate.
CampinVenter is basically a quick-fitting Ripstop trailer tent that fits a variety of trailers without any modification. The trailer lid opens and is supported in a horizontal position to form the base of the beds partly fitted on top of it. Adjustable supports keep the trailer and lid horizontal. The tent's sleeping area offers sufficient space and height to get dressed in, while the two single bunks can be moved together to form a 1,3m x 1,9m double bed. The firm support mattresses are covered with hard wearing easy-cleaning Ripstop canvas for a lifetime of use.
The bunk bases, made from aluminium sheeting, are adjustable according to the width of the trailer. Three tent windows and a door fitted with insect gauze ensure adequate cross-ventilation. The windows roll upwards on the outside but an inner panel can be partly opened. Luggage under the bunks is easily accessible from inside or outside the trailer. The unit is anchored by only five poles, ropes and pegs. The awning forms a large side tent measuring 2,5m x 2,8m by zipping on three side panels.
Two of the latter have roll-up windows with gauze while the third forms the door. A convenient step resting on the mudguard facilitates easy access to the sleeping area. The components weigh 60kg and make up only 40% of the trailer's loading space. CampinVenter includes the main tent with awning, three side panels, bed bases and mattresses, a ground sheet, lid and trailer supports, poles, ropes, pegs and a step. It costs R15 777 and can be paid in three instalments and delivery is within two months of placing an order.
Contact 072 309 4035 or 083 271 8176, or email [email protected]