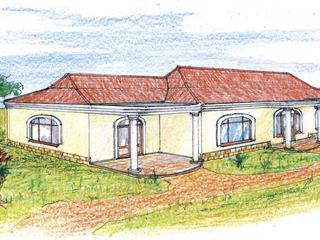 I recently had a meeting with a client, Majola, whose thatched roof house had burnt down. It had a bedroom, a living room, kitchen and bathroom on the ground floor, and an attic bedroom upstairs.
Majola wanted the house rebuilt on the existing floor plan, but requested that this time round it should be a single-storey home and have no thatched roof. This meant losing the attic bedroom, so he asked for it to be added wherever I saw fit.
As the design had only 7m x 11m dimensions, I suggested that the internal living spaces be rearranged marginally to accommodate the additional bedroom.
Majola also requested that the styling of the resurrected home feature a 'touch of Tuscany'. Shown in the sketch is the internal, slightly revised, layout within the existing 7m x 11m outer wall. Most of the door and window spaces have been retained, but have been adapted to a Tuscan style.
An extra bedroom and two outside porches have been added to the original footprint, while the new roof has also been designed to complement the Tuscan style of the house.