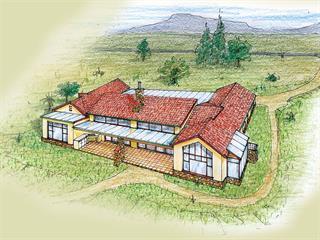 Dear Jonno
Neil and I want to build a new home in the Karoo and eagerly await each week's copy of Farmer's Weekly for ideas.We are a family of four. Our two children are students who come home during the holidays. We would like a cost- effective, spacious house with a modern look.
It must have a double garage with entry into the house. We have thought about eco-green and off-grid options but they are expensive. However, there is a power line close to the site, so it might be an idea to go 50:50 and install solar panels on the north-facing roof.
We envisage a large, central open-plan living area with a kitchen, dining area, lounge and fireplace. I would like a scullery off the kitchen area with a door to the outside and a separate walk-in pantry that can be locked.
We would like an H-shaped house with bedrooms and an office in the arms of the H. It should have verandas at the front and back with large sliding doors on both sides.
One arm of the H must have the main bedroom – windows front and side, open en suite, perhaps behind a half-wall (head board). The toilet could be hidden behind another half-wall or around a corner. It must have a big shower and bath. The bedroom should have a walk-in closet close to the entrance or wardrobe area with doors on the cupboards. An office should be built at the end of one of the arms of the H. It should also have an exit onto the veranda.
The other arm of the H should have two bedrooms with en suite bathrooms (shower only), built-in cupboards and a possible sun room. We would also like a bin yard, dog boxes area, staff toilet and store room.
Our view is on the southern side and extends down into more lands towards a river. There is a public road on the northern side but this is partially blocked by trees. This will allow us to have an entertainment area on the north side.
We would like Trellidor security barriers for the main bedroom/office area. We're keen on stone cladding for the lower section of external walls, and are open to any roofing idea apart from thatch.
We'd welcome any general suggestions from you.
Kind regards, Helen
Dear Helen & Neil
Thank you for the detailed descriptions of your proposed home. I had actually pencilled out a layout before your second letter arrived. I've kept it as an 'H' configuration, as the shape will make little, if any, difference to the cost of the house. In the perspective view, the roof may look a bit complicated but the plans will be highly descriptive technically and I will build cost-saving construction aspects into the design.
The more modern window and sun room glazing could be a bit more expensive, however. The central living/kitchen area has a roof that would have a window arrangement similar to that shown facing south. I have attached the layout, which can be flipped from left to right to suit your views and orientation to the sun.
Best regards,
Jonno