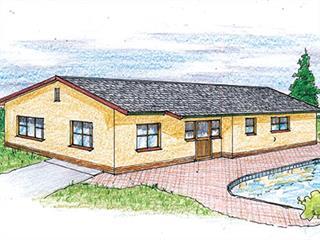 Dear Jonno
A dear friend of ours, who was recently widowed, has asked me to help her design a 'granny flat' to be constructed on her daughter's property in Durban. The existing single garage and staff quarters will be converted into the new cottage.
Kind regards
Lyn

Dear Lyn
It's my pleasure to design this cottage for you. You said she requires as much storage and display space as possible for all her collectables. As the local authority in Durban allows only 80m² for a 'granny flat', this little cottage should serve you well.
I have indicated a single entrance door from the kitchen to ensure maximum security.
The add-ons and the site where I have broken through the dividing wall are shown in red.
I hope she finds a good and reliable contractor to undertake the construction.
Kind regards
Jonno