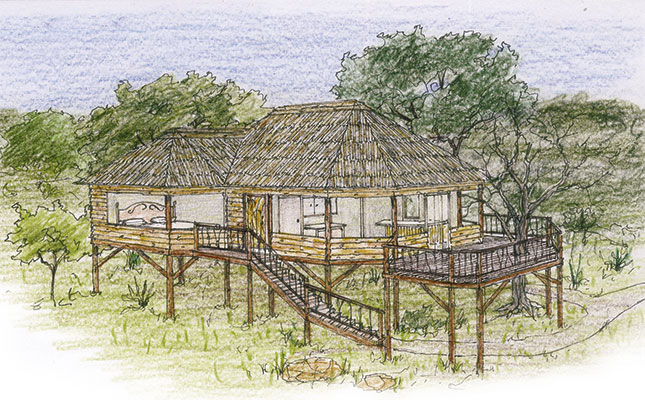 Dear Jonno
Here is the layout of the holiday cabin as discussed. Please feel free to improvise where necessary, so as to make the cottage user-friendly and blend with the bush. There will be 10 or more cabins in all. I would like them to be on stilts and rustic in material and appearance, but of five-star quality.
Thanks and best regards
Richard

Floor Plan: 54,7 m2 + deck
Dear Richard
Here is a revised layout. Your basic layout did not blend with the bush as it was too 'boxy'. The metal roof and machined-timbered walls were a bit stark. I have configured a more rustic external wood application of rough-sawn pinewood horizontal cladding. The walls and blinds will need to be specifically installed to prevent monkeys from entering.
The roof shown is of pine log quarterings, which are usually discards at the sawmills. I have a novel method of applying these which I will detail in your working drawings. As the units will be stilted to allow views of the mountain, I've re-arranged the layout to provide a panoramic view from both bedrooms and lounge. Using local bush wood may prove problematic, as it will be difficult to find straight log timbers and cure them. The timber I have indicated is a cost-effective compromise.
Looking forward to your further comments.
Jonno