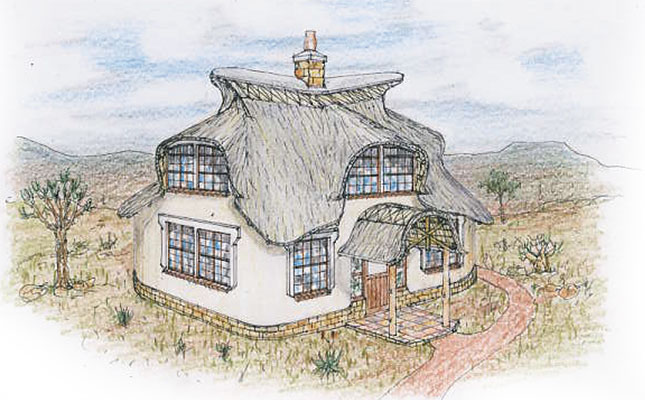 Primary construction materials and fixtures were also discussed.
My research into Scottish-type homes revealed dozens of distinctly different designs with a variety of thatching styles, each a distinct work of art.
In the perspective view above, I have shown my rendition of one of the styles featured.
The layout as explained to me was to be a basic rectangle similar to that featured in my column of 28 October.
The rounded 135° corners are better for thatching than the normal 90° angle, which often results in the thatch being torn off by strong winds.
The ground floor living area had to be open plan, with the three bedrooms upstairs all sharing a single bathroom.
The fireplace will serve both as heating and as a central support for the first floor ceiling above, and the open-beam roof over the top floor level.
The first floor outer walls are built up to 1,8m in height, to add aesthetic appeal to the thatching, and contain heightened dormer windows.
The windows shown are cottage pane sash-windows, but they can easily be changed to any other preferred style.
I have also requested a picture of the particular styling that the family has in mind so that I can adjust the design accordingly.