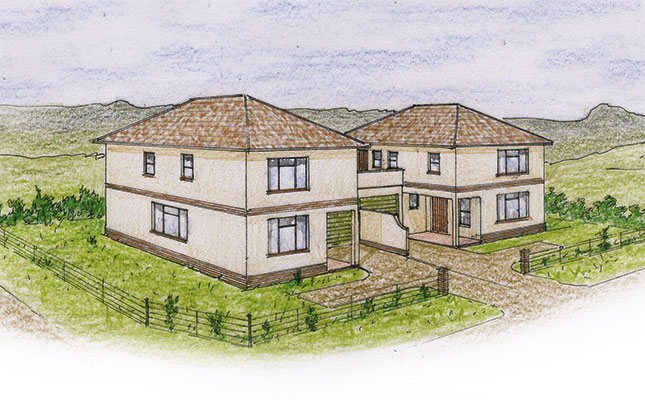 Hi Jonno,
I'm a regular reader of Farmer's Weekly and I've always been fascinated by your plans. I've just bought a plot in Mthatha in the Eastern Cape in a suburban area. I would like the following. Twenty double-storey units of two-bedroom flats, each comprising a kitchen, lounge, a toilet separate from the bathroom, a single garage and an optional carport. If possible I would like a roof doubling as a clothes line.
READ:Rondavel home for two families
Townhouses of three bedrooms with a garage and a carport, open-plan kitchen/dining area and a lounge. Please include an optional braai area for those who might be inclined to do so. I was thinking of any size between 70m2 and 100m2.
Regards,
Herold

Hi Herold,
I know that you would want to start with the townhouses first, to generate finance; but I thought I would start with a pair of flats on portion four of the complex. It includes most of the detail that you requested. The sites that are in-between would require revised layouts. Also shown is the positioning of the units, allowing for building lines, side and frontage to roads.
I would imagine that the larger sites on the opposite road to the one I've shown would suit the townhouses, ie sites 3, 6, 9, 14, 20 and 23. Let me have your thoughts on the unit placements. I hope to serve all your architectural requirements in the near future.
Regards
Jonno
This article was originally published in the 22 February 2013 issue of Farmer's Weekly.